Water and Stones
9 days Distance: 100km A level of complexity: averade Price: 250 Euro
It is the extended version of a superpopular route " Water and Stones " (9 days instead of 6). Due to it(this) and without that the various and sated(saturated) route becomes simply universal. Every day ways - a new landscape. You will see: the Valley of ghosts, karstic caves, falls, deep canyons, medieval ruins and stupefying mozhzhevelovye groves. We shall pass(shall take place) 4 mountain plateaus: chatyr-сбъ, Northern and Southern Demerdzhi, Karabi. And toward the end we shall leave directly to the sea in area of New Light. If you still never were in mountain to Crimea, choose this hike - will not lose. The nearest arrival - on May, 2nd, 2009. The plan of a hike:
1 day. Simferopol, cave emine-нбїУ-Х«ЯбУ.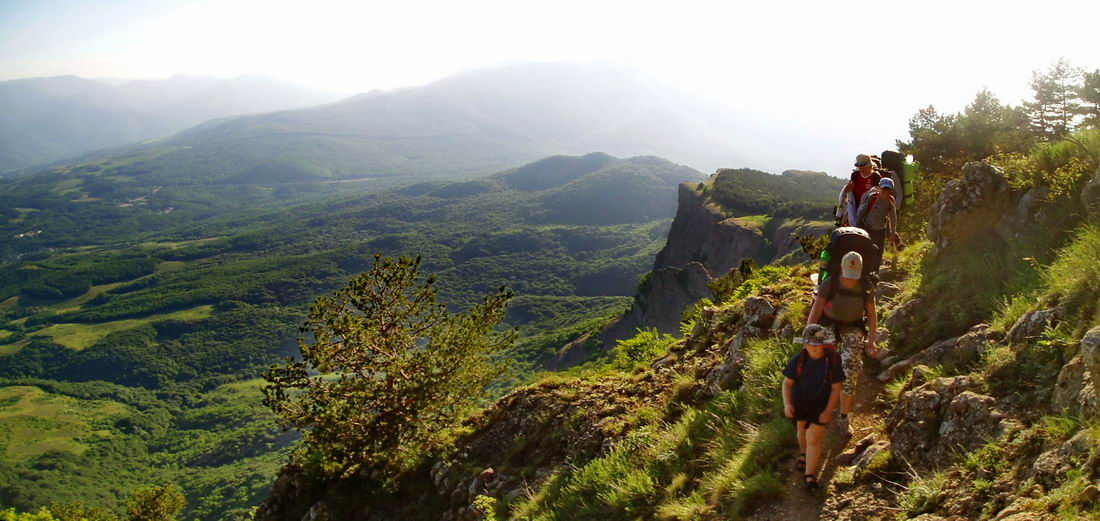 the Group gathers on zhd station of Simferopol. We distribute(allocate) products and equipment then we go to settlement Perevalnoe. From here, on Ishachej to a track, we shall rise on plateau chatyr-сбъ (1000м above sea level). Here for us waits emine-нбїУ-Х«ЯбУ. It is the equipped cave (with the steps cut down in a rock, electric illumination, beautiful music and weight of impressions). On a lodging for the night the group settles down under the arch of a huge grotto.
2 day. Plateau chatyr-сбъ, the Hangar-breaker, lake Kutuzovskoe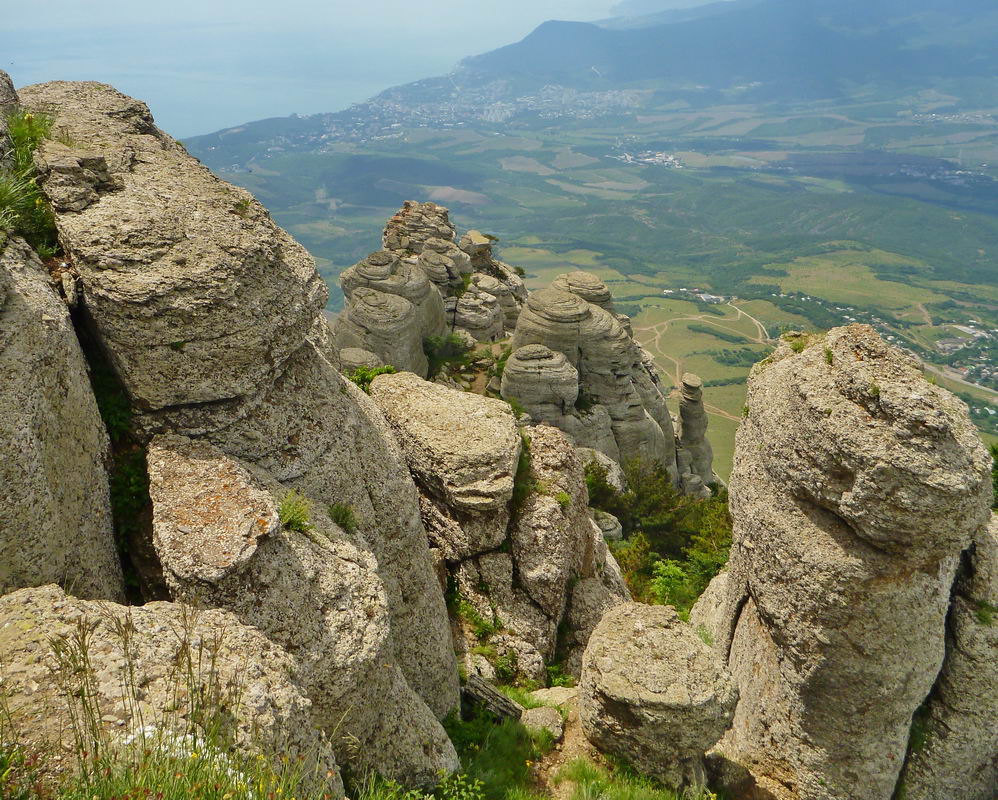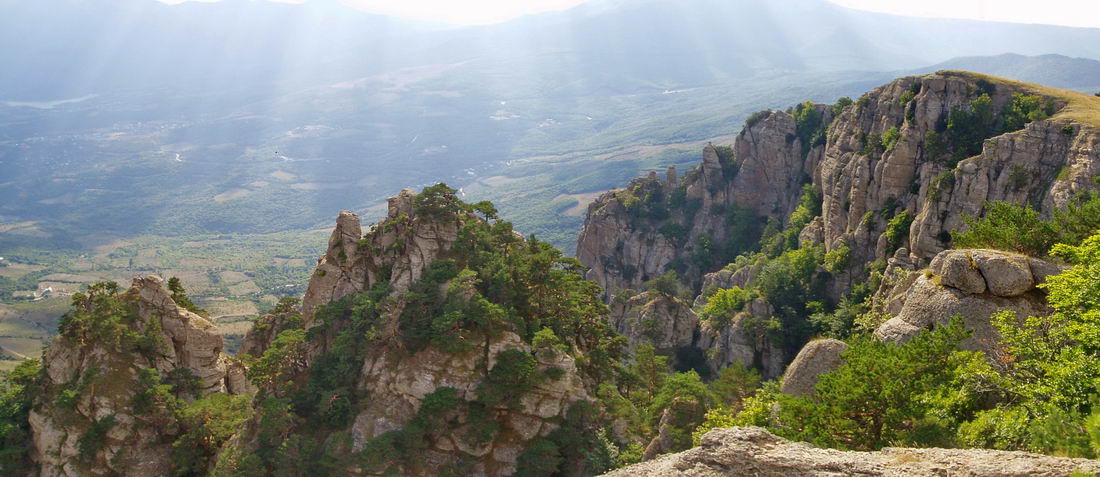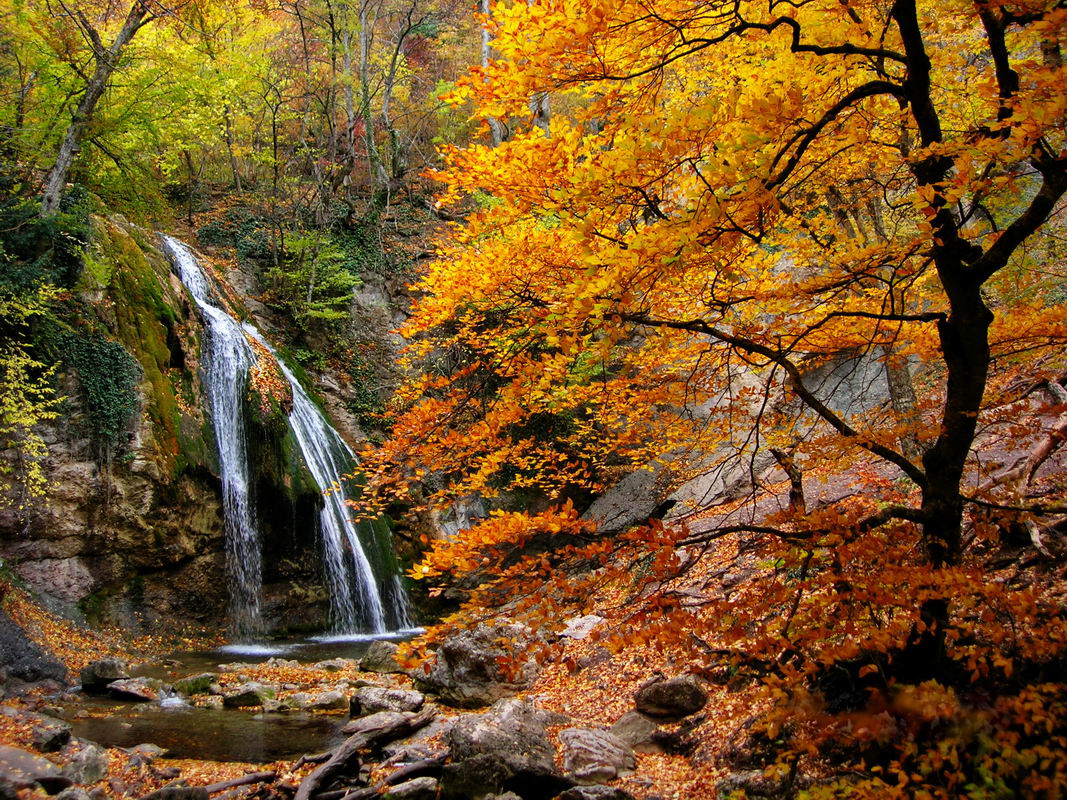 in the Morning we shall cross covered karstic voronkami and numerous caves the bottom plateau chatyr-сбъб and we shall leave to abrupt breakages on its(his) east party(side). Almost 500-meter rise on top the Hangar-breaker (1453м) from here begins. From above the sea, Alushtu and our following mountain - Demerdzhi is visible. There we shall go tomorrow, and today we are waited with a lodging for the night in a shadow of the presents sekvoj on coast Kutuzovskogo of lake.
3 day. Fortress Funa. A valley of Ghosts, Southern Demerdzhi.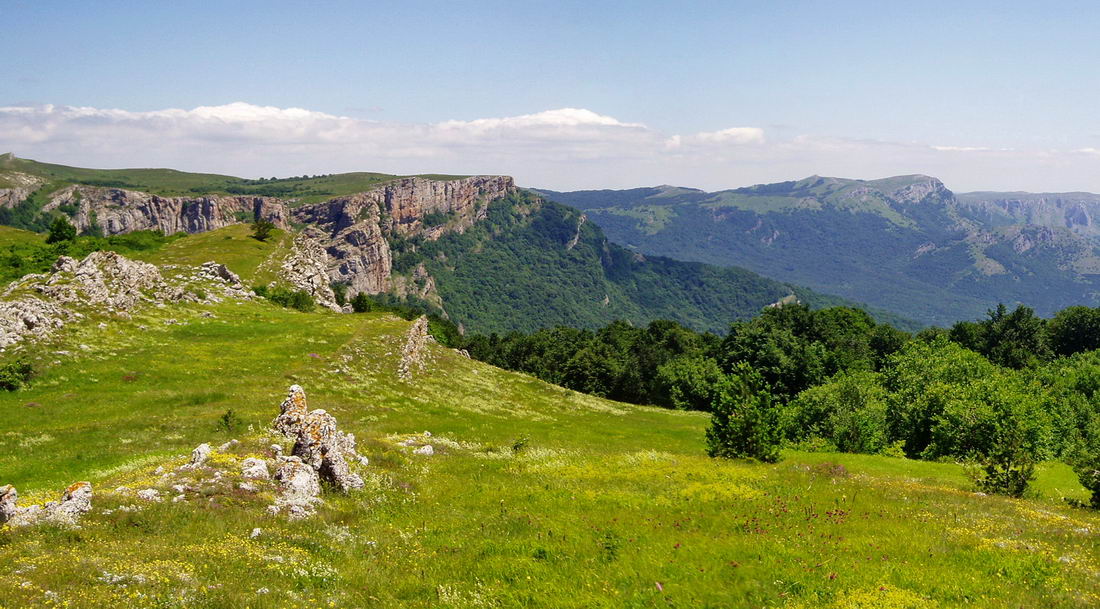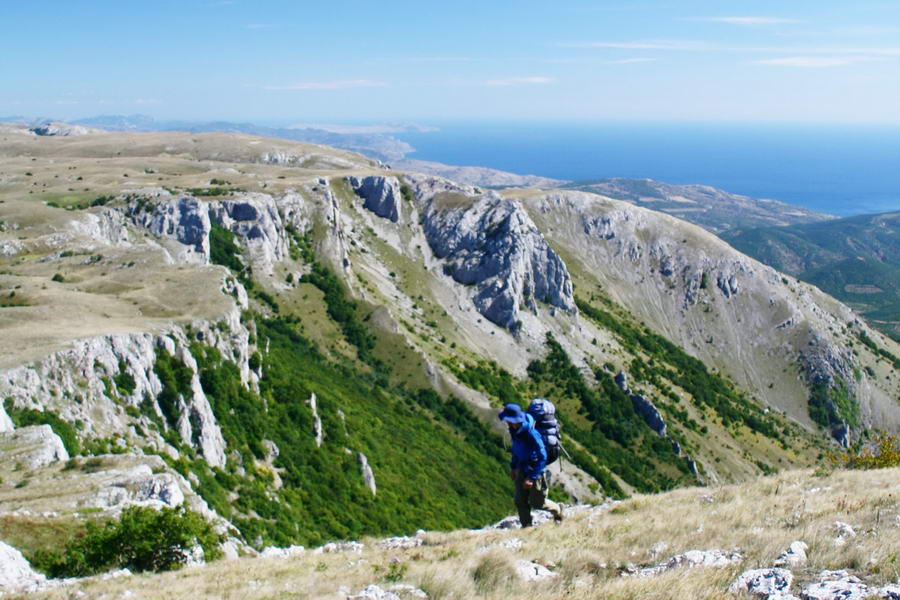 From lake we shall quickly go down to a line (Angarsk pass) and through beechen woods and lavandovye plantations we shall leave to ruins of fortress Funa. Before us huge boulders of stone chaos. Among them the track in the Valley of Ghosts (will see - will understand) begins. On top Southern Demerdzhi we shall leave yet soon - too many beautiful kinds, it is necessary to photograph :) Only by the evening we shall go down in gorge Dzhurla, on legendary turstojanku.
4 day. A plateau Northern Demerdzhi, gorge Haphal, falls Dzhur-Джур.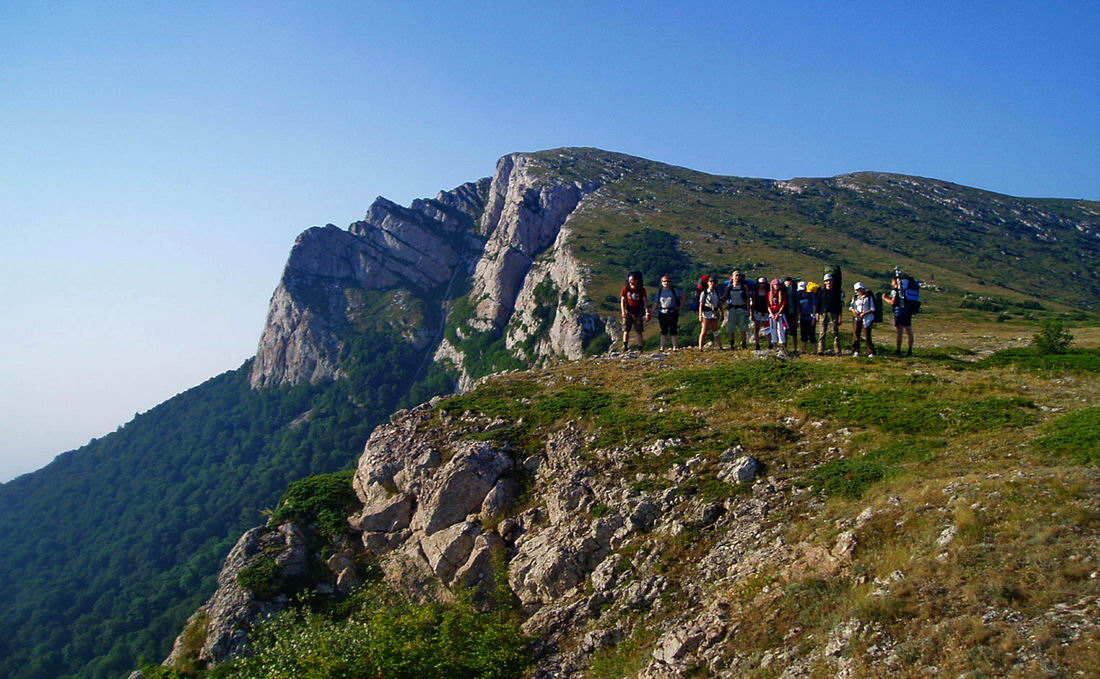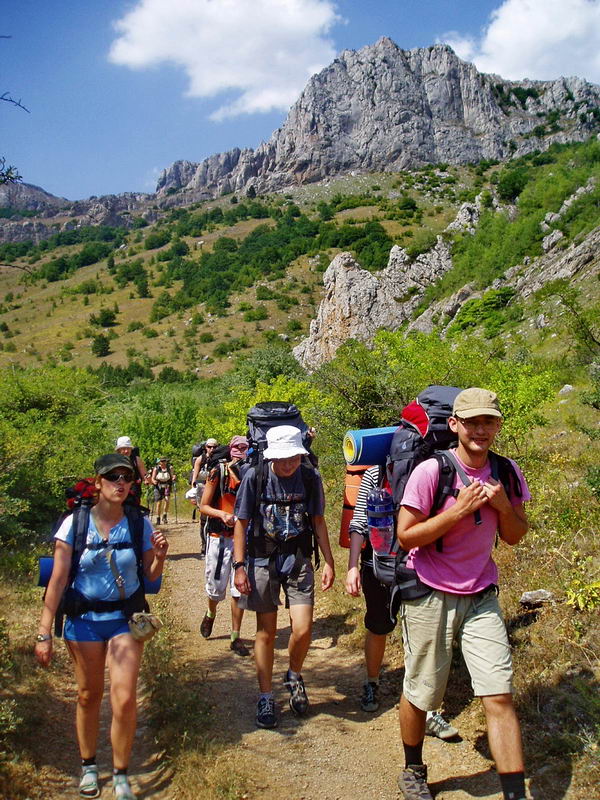 the Plateau Northern Demerdzhi equal enough and we shall cross its(his) all in some hours. The deserved reward for a speed become tremendous kinds from edge(territory) of a plateau. Sharp gear rocks surround gorge Haphal. The most interesting now begins - long descent(release) (check up brakes) to bottom Haphala. There - not only the deepest falls of Crimea - Dzhur-Джур, but also huge quantity(amount) of small cascades and vodopadikov. For today it is enough - a lodging for the night.
5 den.gora the Penalty-ФбТ, a cave Suffer(Bear)-¬«нб, a meteorological station.
Today we begin acquaintance to the greatest plateau of mountain Crimea - Karabi. With its(his) lunar landscapes gets acquainted from above is better. For this purpose we shall climb up mountain the Penalty-тау. At the same time we shall glance in a cave Suffer(Bear)-¬«нб, where during immemorial times there was a sanctuary of one of the Crimean tribes. And by the evening we shall go down to one more sight Karabi - a lonely meteorological station with a wooden machine gun on a roof. Under its(his) protection we also shall stay the night.
6 day. Cave Buzluk, gorge Chigenitra, pass the Greater(Big) Gate.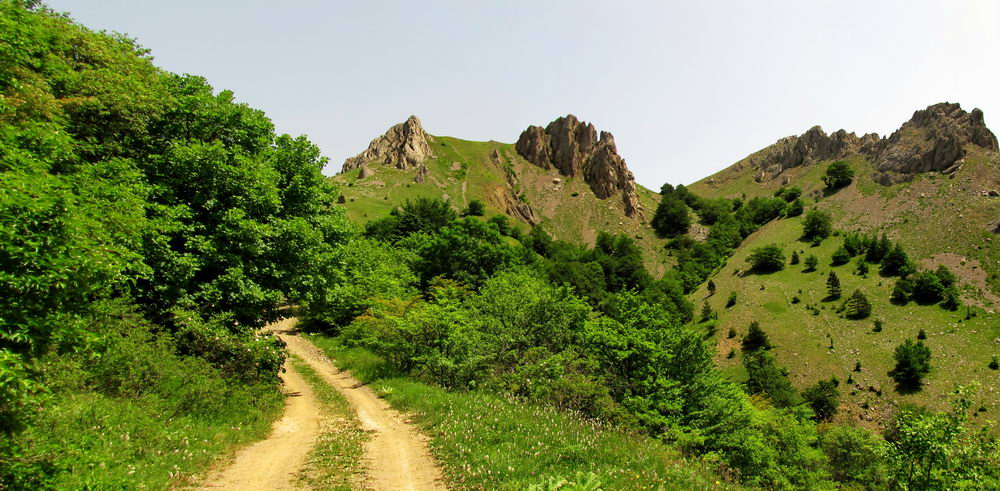 Passing(Taking place) on Karabi we shall necessarily come to a cave Big Buzluk. At the bottom of huge voronki reigns an eternal cold. Ice stalactites in it(her) do not thaw even in the hottest summer. Some more kilometers on the east and we again at breakages. This time before us gorge Chigenitra in which basis we shall cross ruins of an ancient fortification. Further us waits for a turn of passes: the Greater(Big) and Small gate, Kalliston and Alakat. Mountains imperceptibly vary - we enter into East Crimea.
7 day. The cook-бЯбЎ, canyon kuchuk-¬бУбЯТ.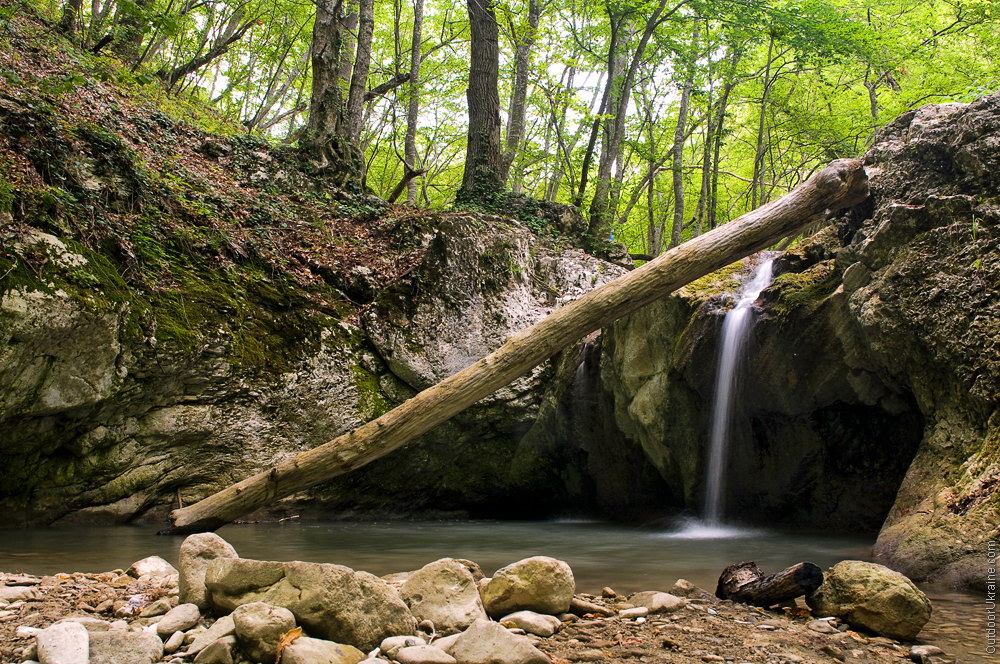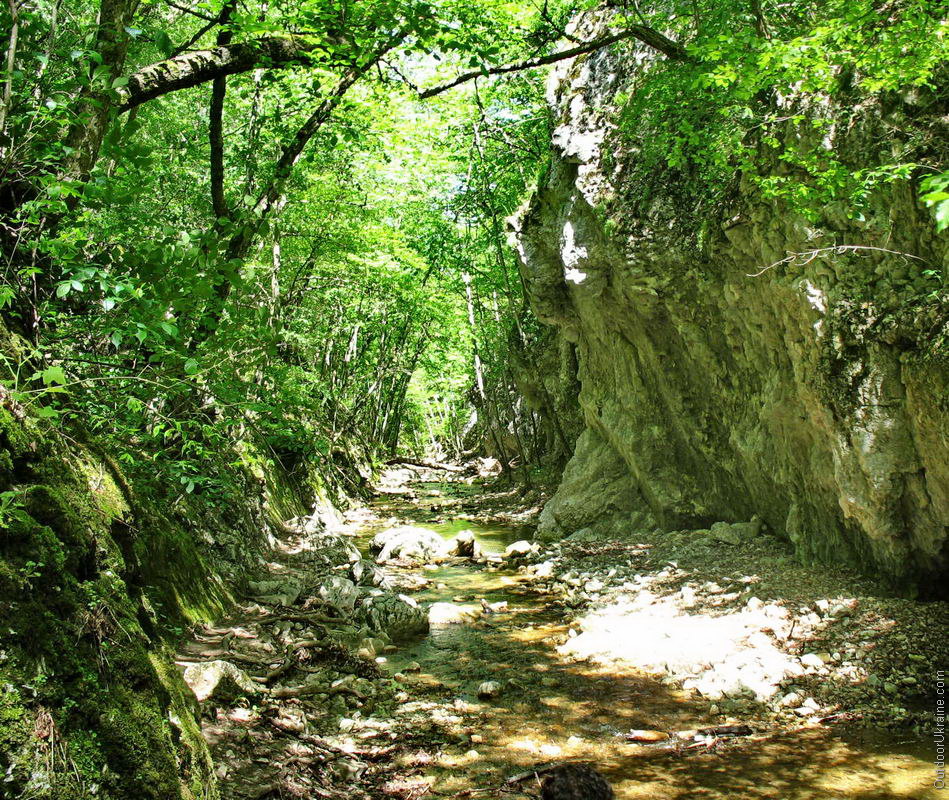 As indemnification for yesterday's shock day, today all will be easier. From a parking lot we shall go down in a valley of the river the Cook, named two popular tourist parking Top and Bottom the Cook-бЯбЎТ. On Top the Cook-бЯбЎС we shall leave backpacks (under supervision of several volunteers) and nalegke we shall go to a radial output(exit) on a bottom of canyon kuchuk-¬бУбЯТ. Walk without a backpack, will allow an occasion to reflect on simplification of equipment.
8 day. Natural boundary Panagija, Arpatskie falls, Kutlakskaja a bay.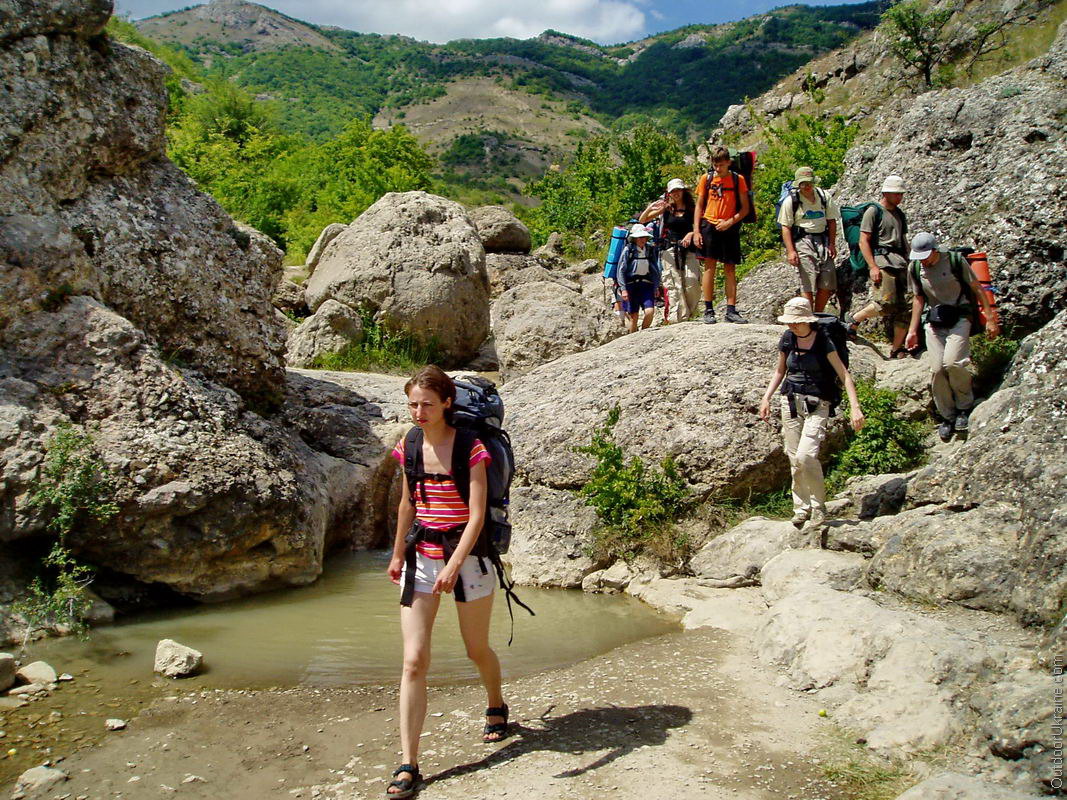 Yesterday we have lead the most part of day in woods and gorges. It will be more pleasant to that to leave today on the open open space. From pass Gorucha the kind on the most beautiful place of Crimea - natural boundary Panagija (Presvjataja) opens. We traversiruem ostroverhuju mountain Breaking and by a rock of Appointment shall go down to dairy falls Arpata. Water flows from one freakish bath in another and deduces(removes) us to Zelenogorju. From here we on a minibus shall be thrown more close to the sea. A hike we shall lead last night in Kutlakskoj to a bay, is direct on a beach.
9 day. Sentry-both, the Imperial beach, New Light.


Along coast through zapovednye mozhzhevelovye groves of cape Sentry-both goes a track laid still ancient Tauris. We shall take advantage to it(her) to get to the Imperial beach. And therefrom on Golitsinskoj to a track a hand to submit up to New Light.
On it(this) our route comes to the end. From New Light it is easy(light) to get in the Pike perch (20 minutes on marshrutke), whence some times at an o'clock go buses to Simferopol. Though, it is possible and to not hasten(hurry) to leave(abandon) Crimea, and to remain on couple of days at coast. To descend(go) in the Genoa fortress in the Pike perch, pozagorat on a beach, and easier(simply) to breathe a можжевелово-sea air cocktail.
Notes


It is an independent pedestrian hike. All necessary (tents,) we bear(carry) the foodstuffs with ourselves in backpacks. The plan of a route is not dogma (the instructor can change a route). We on anybody do not depend and we can go how we shall want. The main thing - to receive pleasure from each step.
Cost of the tour: 250 Euro
Payment by cash in the end of a hike.
Into cost of round enters: three meals a day on a route, services of the instructor, registration in контрольно-saving service, the medical insurance.
Into cost of round does not enter: hire of equipment, a payment for visiting of cave emine-нбїУ-Х«ЯбУ (50 griven) and other paid sights (20 more griven), crossing(moving) from a final point of a route (approximately 25 griven).
Esteem about our discounts and the order of payment.
Additional materials
* the List of necessary things and equipments
* Responses of clients about round " Water and Stones "
* the Card(Map) of a route
* Answers to often asked questions (FAQ)
Application form