Tours to Nepal
Turkulub OutdoorUkraine has been organizing active tours to Nepal since 2009. On the route the group is accompanied by an experienced Russian-speaking guide who has visited Nepal several times, and several Nepalese (porters, assistant instructors). Our guide solves all issues arising during trekking - book accommodation, organize transportation, help to order food in lodges, communicate with Nepalese porters. Therefore, to participate in a hike in Nepal, tourists do not need to know English.
Nearest Tours to Nepal
Nepal is not difficult!
Contrary to popular prejudice, in order to travel to the Himalayas does not necessarily have to be a "monster" of tourism or a master of sports in mountaineering. On the contrary, thanks to the developed infrastructure and good trails for Nepal, European grandmothers-pensioners and hundred-year-old Japanese go with crowds with cameras at the ready. Than you are worse than the German grandmothers? There is no need for a visa to Nepal, tickets can be bought on sale, you already know how to walk :) And the rest will be provided by our instructors.
---
What is the difference between trekking in Nepal and hiking?
No need to carry a tent - all accommodations in comfortable shelters
No need to carry and cook food - in shelters, perfectly fed
You can hire a porter, give him an already lightweight backpack and go light, admire nature.
Hot shower almost daily
Popular trekking tours in Nepal.
The most popular destinations for trips to Nepal are the regions of Mount Everest and Annapurna. We regularly (several times a year) carry out trekking on the three most demanded routes considered below. More exotic tours we can organize to order (for a group size of 6 people).
---
Getting to know Nepal.
15 days, $ 1150, the difficulty level is low. In the tour program: treasures of the Kathmandu valley + uncomplicated trekking in the foothills of the Himalayas + Lake Feva in Pokhara + rafting on the river Trisuli + safari in the Chitwan reserve Having a hiking experience is not necessary. The maximum height on the route is 3200 meters.
Annapurna Base Camp
15 days, the difficulty level is medium. The classical track to Annapurna Base Camp passes through all climatic zones - from the jungle to the glaciers. This is the most popular of our tours around Nepal. The maximum height is 4200 m.
Base Camp Everest and Lake Gokyo.
21 days, the difficulty level is high. The maximum height on this track is 5500m. To the base litter of the Jomolungma are excellent trails, real highways. If there was not a lack of oxygen, then it would be easy to go on them. And so, get ready to face a mountain sickness - be patient.
When to go to Nepal?
The tourist season in Nepal lasts only a few months a year. In the Himalayas, the most favorable weather for travel and trekking is set in April-May and October-November. In spring there is more snow, but you can catch the season of flowering rhododendrons. In autumn, the weather is slightly more stable and there is much less snow on high mountain passes. In our schedule of hikes there are autumn and summer tours to Nepal. Choose you :)
In late May, Nepal begins the rainy season, which lasts all summer. True tropical rain falls on the ground every day - traveling in such conditions is not very comfortable. In the winter months, the mountains are very cold and often the passes are blocked due to heavy snowfalls.
Sights of Nepal.
After trekking in the Himalayas, you have time not only to buy souvenirs but also to explore the cultural sights of Nepal. Here is just a short list of the treasures of this amazing country, which in some form or another are included in our programs:
Buddhist stupa Bodnath
Monkey temple in Kathmandu
Shiva temple and crematorium in Pashupatinath
The house of the living goddess Kumari on Durbar Square in Kathmandu
The Royal Square in Patan
Bhaktapur
Chitwan Preserve
Reviews about tours to Nepal.
If you still doubt, read reviews of our tourists about the adventures in Nepal. At the same time you will figure out what route to choose and what you need to prepare for
---
Sincerely I wish to those who have even visited the mountains, to be in the Himalayas! Friends, you will not regret! Once there in the campaign, you still remember my words! After all, this is the country that turns in our head a lot and everyone probably has their own: on another you start to look at life, overestimate it and even more love for abundance, beauty and uniqueness! And today the Himalayas are beckoning me again, I want to come back sometime, in the near or far future, in this amazing world!
Angelika Rusinova, Kirov.
Now, the fact that we visited there seems so irrational. In our gray cities, under the clatter of autumn rains, the uniform buzz of city transport and the quiet, barely audible rustle of falling snow, it is so difficult to imagine that somewhere out there life is not clogged in a blind frame, but continues to be as it was a hundred and even a thousand years old back. Our trip long dreamed us, the Himalayas did not want to release their pilgrims, even after we were already used to the rituals of urban life. But we know, we will return there to once again become a part of something that is so hard to explain by words.
Denis Teslenko and Marina Sklyarova, Kharkov
The main impression is that Nepal takes out the brain and tears the soul apart. There you just need to visit! No words and pictures even close IT can not be transmitted! Just go there and go peshok with a backpack without porters on the paved paths at least to the height of the base camps - there you will understand where extreme is allocated) Yes, even this is not necessary - just fly to Kathmandu and walk around the city. Believe it's fun!
Alexey Chukardin, Minsk
It is for this and it is worth going to Everest - to understand that these mountains can not be conquered, but to believe that everything here depends on you only - an impermissible, sometimes cruelly punishable arrogance. One of the strongest climbers, Anatoly Bukreev, said that the mountains are not a stadium where they are ambitious. And indeed it is. Above is a whitish sky. From all sides you are looking at huge, white-to-blue blocks. And silence - such that her ears hurt and by the principle of communicating vessels becomes empty inside. And then - you realize how inside you are. And than:)
Olga Pugach, Moscow
Leaving Nepal, you understand that you will never accept their way of life, their way of thinking. And at the same time, you are eager to return here, at least in order to eat an incredibly sharp rice, and look again at the two-pointed peak of the unconquered holy mountain of Machapuchare.
Anna Padutova, Belarus.
Как присоединиться к туру в Непал?
Select a route and date from timetables . Nepal is a country where it's nice to come back. Do not try to look at all at once. Start with a simple one.
Fill in request for participation .   Please send your application right now, even if you are not yet sure of your participation. You do not need anything to do this.
Make a prepayment.   To reserve a place in the group, you must make an advance payment of $ 100.
Buy air tickets The cheapest tickets to Nepal are offered by AirArabia and FlyDubai - about $ 700
Take care of your health. Walk on the doctors, check for contraindications. Give up the elevator. Start running at least 3 times a week for 30 minutes.
Gather the necessary equipment . Do not hesitate to call and consult us on any questions related to the preparation for the trip. li>
When leaving for the airport, do not forget the passport. Nepalese visa is issued for 5 minutes directly at the airport upon arrival in Kathmandu
Instructor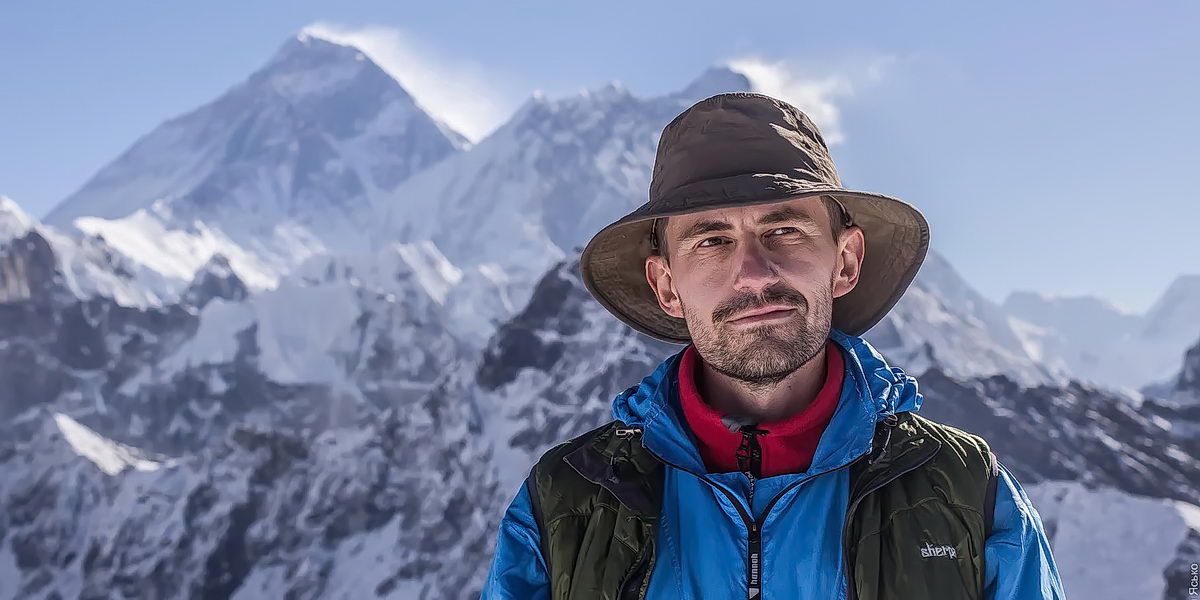 In all the next expeditions along the Himalayas, I will be the instructor - Cyril Yasko . If you have any questions regarding the organization of trekking in Nepal, write or call. I'll tell you and help than I can. By the way, all the photos used in this article, I did during our Nepalese programs.