Tour Itinerary:
Day 1. Ivano-Frankivsk – Kvasy village – Polonyna Vesniarka
Group members meet at Ivano-Frankivsk railway station and are transferred to Kvasy village by bus. Kvasy village is located between the two magnificent mountain ranges –Chornohora and Svydovets ridges – and is famous for its mineral water springs. You will have a chance to taste that healing mineral water. From there the group will start hiking uphill towards the Petros peak. Meadows will gradually turn to pine woods with blueberry thickets. We will set up a camp on Polonyna Vesniarka. Polonyna is an alpine meadow. You will see a lot of cows and sheep grazing upon the hills.
Day 2. Sheshul peak – Petros peak (2020 m) – Hoverla mountain base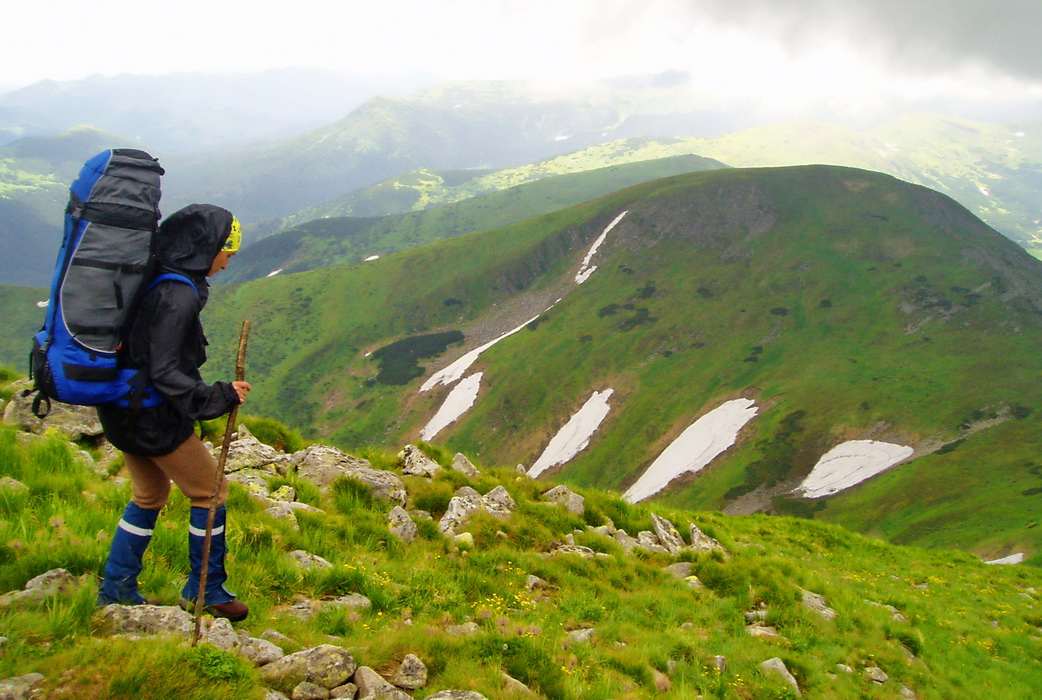 Northern spurs of the Petros mountain resemble taiga (northern coniferous forest) – tall fir-trees, emerald-green mosses, berry thickets. The trees will alternate with elfin wood. The trail will lead us to an open crest and further to the summit with a small chapel. From Petros peak (2020 m) there is a picturesque view of Hoverla mountain and the Chornohora ridge behind it. Downhill hiking from Petros is quite steep and requires high concentration. We will set up a camp on a col between Petros and Hoverla.
Day 3. Highest peak of Ukraine Hoverla (2060 m) – Nesamovyte lake
A wide convenient path will lead us along the col from Petros to Hoverla mountain. Hoverla is not only the highest, but also the most popular peak of Ukraine. Hundreds of tourists and travelers ascend the mountain every day all year round. That's why we will try to reach the summit early in the morning to have a chance to enjoy it on our own. After that we will go on hiking along the Chornohora ridge and will traverse Breskul (1911 m), Pozhyzhevska (1822 m), and Turkul (1933 m) peaks. We will stay overnight near the Nesamovyte mountain lake (1750 m).
Day 4. Rebra peak – Brebeneskul peak (2036 m) - Menchul peak – Smotrych-Chornohora saddle
At the beginning of the 20th century the Polish-Slovakian border was set along the Chornohora ridge. Old boundary pillars are numbered. Tourists usually use them as orienteering points. During that day we will hike from the 32th to the 18th pillar. It is quite easy to walk along the ridge, however the wind is gusty and we will take halts hiding in small trenches and behind the rocks. We will also pass by the Brebeneskul lake surrounded by magnificent amphitheatre of rocks.
Day 5. Observatory on Chorna Hora peak (Pip Ivan) – Dzembronia village
Along the old boundary we will also see fragments of barbed wire and half-ruined dug-outs and trenches. Chorna Hora peak is getting closer and closer. This gloomy fairy peak with ruins of old Polish observatory on its top awakens fantastic images in our mind. After a halt we will start a long downhill hike from the Chornohora mountain range and will reach the valley of Dzembronia River by evening.
Day 6. Nyzhnia Dzembronia village – Verkhovyna village - Ivano-Frankivsk
In the morning we will walk down to Nyzhnia Dzembronia village near the Cheremosh River, from where we will take a bus to Ivano-Frankivsk railway station (with transfer in Verkhovyna village).
Price: 65 Euro
You can pay in cash (Euro, dollars or hrivnas) at the beginning of the tour.
The tour price includes: three meals a day, guide services, registration at the mountain rescue service.
The tour price does not include: equipment rental, entrance fee to the Nature Reserve (UAH 30) and other paid places of interests (about UAH 20), transfers (about UAH 300), medical insurance.

Tours: all tours we suggest are standards and reckoning to the ordinary person, without special training. We can always change them and make taking into account all your wishes. The duration of the tours and their complication are not a dogma. You can test yourself in every season of the year. Experienced guide-instructor is working with a group. Average time for everyday walking is 6 hours. In the route the members are living in tents. The feed is cooking on the fire. During all route the members carries things and public burden themselves, carry the water, take part in preparation of the fire-wood. During the time of the route the comforts (toilet, douche) are not stationary (nature level ). When you order the tour we try to take into account all your wishes about routes, feed and service.If you want we can compose tour special for you.
Feed: full board (three times a day). Example menu is: porridge, soup, macaronis, cheese, sausage, tea, cookies, in limited are season vegetables and bread.
The members: you can go as one, as with family (children) or friends. You can also take part in tours with your domestic animals. Usual size of the group from 6 to 15 persons.
Cost of the tour: cost of the tour depends on minimal number of people in the group Prices can be change in dependence from volume of service which you would like to take, tariffs of ferrymen and others.
Schedule
Application form