Report on the hiking in Montenegro
The report on the pilot route hike "Prokletije Durmitor" 18-29 August 2011.
When I was just going to Montenegro, then, frankly, did not feel much etuziazma - new country promised a new difficulties, and expensive succeed. But it was necessary "to get involved in a fight," come into the country, all at once adjusted. Montenegro was very nice and friendly, and mountains of Durmitor Prokletije and subdued me from the first second singles. These magnificent mountains where few find. I did 400 pictures a day and realized that is not able to photograph and a fraction of this miracle of nature. Yes and we should do it? After all, I will come back to Montenegro ... Preparing to march On the internet quite a lot of reports about trips to Montenegro. But somehow they all about bicycle trips. And this is even close and we kind of tourism, but because of the specific areas to sense from those reports was not enough. Cyclists, though there were in the same territories, but the passes were taken exclusively on asphalt and sypuham not climbed. Ultimately, the main source of information have become foreign-language Internet and bought there (online) travel guide.
Montenegro and Montenegrins. As in all other countries I visited before, the local population in Montenegro is friendly and warm welcome tourists. Many people understand in Russian, the others speak English. In an extreme case Montenegrin language (similar to Serbian) is also understandable. The only suspicious characters that we met for the entire stay in the country were a few Roma shlyavshihsya on the waterfront of Budva. Back in Ukraine, I was convinced that we have much more "dumb" (and the Kiev railway station is just gadyushnik).
The mountains and nature in Montenegro. It is quite unclear why the country decided to name in honor of some Black Mountains. The mountains here are white as usual - limestone. The same breed as the Crimea or the Carpathian Mountains. Yes, the hike I your fellow travelers all ears buzz with constant comparisons to the Crimea and the Carpathians. And not just because they're my family, but also because of the resemblance is really great. Dense spruce forest, glacial lakes and cirques, an abundance of blueberries, raspberries and strawberries, afternoon thunderstorms, impassable elfin (zherep) kolyby pastoral, sheep, and cheese - all in abundance is found in the Carpathians. A karst caves and craters, snowy cliff over the warm sea, spotted beeches bizarre, wild and heat related forest fires on the southern slopes, thorny thickets on abandoned tracks - very typical of the Crimea. Thank God no ticks (major scare Crimean campaigns) we did not find. Locals as well as guides to frighten us with snakes, but to see them and us are not fortunate enough (except for a small legless lizard). This is true not prevent this camp to be born a legend (which is about snakes), which I will write and publish necessarily in his blog.
Routes and mountain trails. Although the mountains in Chernogrii relatively low (up to 2500m), but just can not call them. I like this campaign has seemed even more complex than the track "To the heart of Annapurna" in the Himalayas. The average for the whole day (8-10 hours) we were 10 kilometers across, which accounted for no less than a kilometer climb. Even Radialka without backpacks (on Karanfily in Prokletije and Bobotov Cook Durmitor) were given was not easy. There were many areas where you had to go down the sypuhe, wade through zherep, jumping over rocks. More than once we had to crawl, ie trekpalki throw and move the rock holding all four extremities. In other words, the route is absolutely not for beginners, like pervoraznikov. But if the difficulties you are attracted to - you are welcome to Montenegro.
A little adventurous. On the whole trip went so smoothly and well, that automatically start to forget what a fabulous dip it all began. It all happened in the first half-hour stay in Montenegro, even at the airport. Guess? No, we have not lost a passport. The airline lost one of the backpacks. And just where he lay tent and most of the products. We took this Template Installation with humor, but in reality the campaign was under threat if not a complete failure, the serious decline. Luckily two days later, a backpack was found (in Turkey, Antalya) and returned to the owner, and we had to make up for lost time. Although, actually, no we have not lost - these two days were devoted to the beaches and the cultural program.
Sea and beaches. Adriatic Sea I really enjoyed it. In Montenegro, as well as in Turkey, water is very clean and attractive. It is a magical shades of blue, which shimmer waves in the Mediterranean Sea looking for any slightest hill. The sea is transparent, the water is warm and very salty. And from the high salinity follows the remarkable fact that there is very easy to navigate. The water itself is holding you back, legs can be no rowing. Speaking of feet. On the beaches of Budva, Becici Perast, where we visited, the bottom flat, with no sharp rocks and sea urchins. Beaches themselves are covered with very small pebbles (almost sand). Most of the beaches in Budva with free showers and pereodevalkami (which is not enough for my taste), as well as pay and cafes with umbrellas, deck chairs.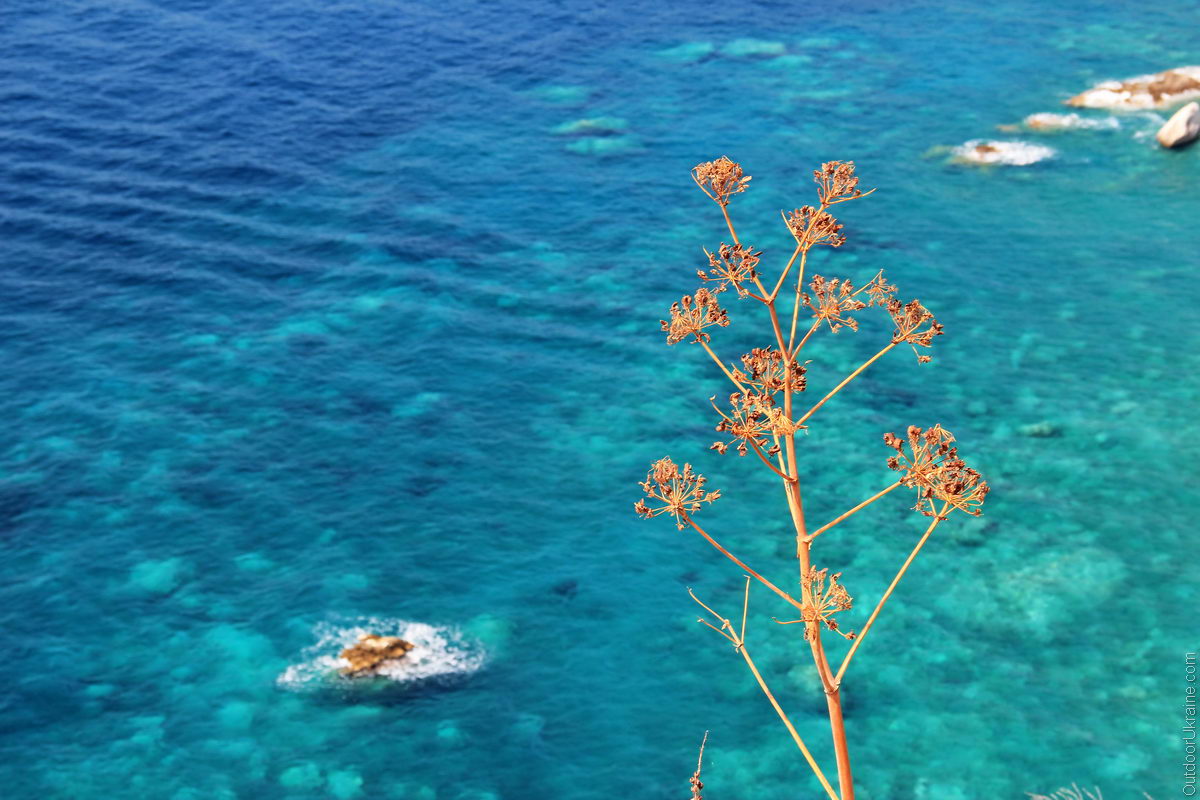 Cultural Program and attractions. The role of the sights of our trip to Montenegro played a so-called "old town" of Budva, Kotor, Perast. Usually, this decade old city of narrow medieval streets walled. For ten of the streets there are five churches and four square. The city is of course the port - so close is the sea. A long-standing tradition obliges Mediterranean tiles cover the house and decorate the window shutters. In short, the little town extremely picturesque, our eyes are unusual, the role of the cultural program operates with a bang.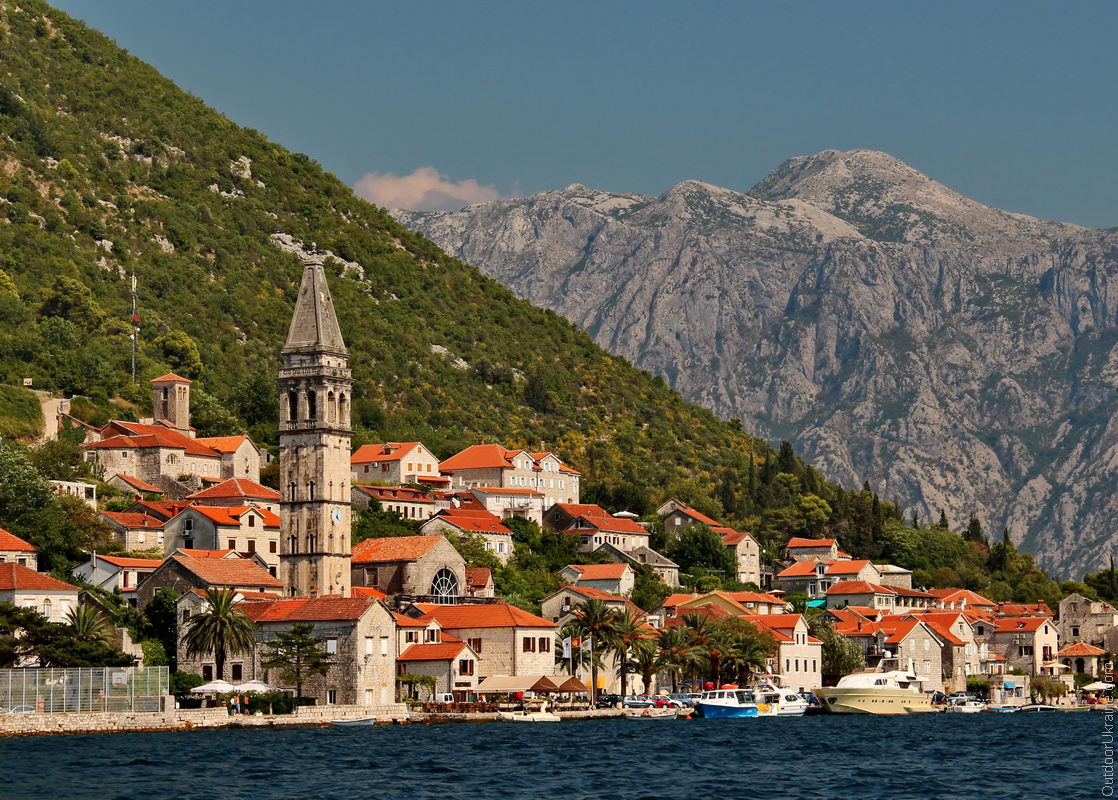 Weather. The heat became a permanent member of our team to travel to Montenegro. Exploring the attractions of the coast, we are sweating (which was quite predictable) and dreaming about how to climb high into the mountains and enjoy the last cool. However, in the mountains, the heat receded only in the evening. In one of the high-altitude nights in Prokletije was even seven - have a reason to wear a hat and fleece (hooray! knowingly pulled). But it was necessary to ascend to the sun, like streams of sweat streamed again on our backs. Only the last two days in Durmitor were relaxed afternoon summer thunderstorms are so similar to those that are in the Carpathians. Immediately after the rain became warm but not hot, for which many thanks to the heavenly office. But do not think that in the mountains of Montenegro are always warm and sunny. Read my reports say that the cold, terrible winds and showers, must be prepared no less than to heat.
Transportation. Since the group was small, we moved to cruise shuttles. Tickets in advance are not bought, no difficulties did not arise, the flight schedule rather rich. A couple of times accelerated the process of hiring a taxi, but without it you can easily navigate. In Zabljak met with the guys who have tried hitchhiking. In their opinion in Montenegro is not the best way to travel. Most mountain roads and narrow (even on the coast) - drivers simply nowhere to slow down. In addition, a significant percentage of traffic are foreign tourists, not really seeking to pick up strangers with backpacks.
Prices. Let me remind you that even though Montenegro is not an EU member, but as the currency is using the euro. Accommodation in the average price of 10 dollars per person per day. Dinner at a simple restaurant on the waterfront will cost 12 Euros, and a slice of pizza and chewed burger on the run - about 3 Euro. Prices for bus very variiruyutsya, but for reference you can take the price of 6 euros per hour road. Total for the entire trip for 12 days we spent around 300 euros per person.
Results. In order not to finish a report on the "money note" again - this super-duper Montenegro place to travel. There are mountains, none of whom had gone deprived. I do not know who should be to say that Durmitor Prokletije or not beautiful or complicated or anything else out there. It's complete satisfaction, after which not a sin to lie on the sea. Kirill Yasko, Kiev, Theodosius, September 2011.