Bad people do not go to a hike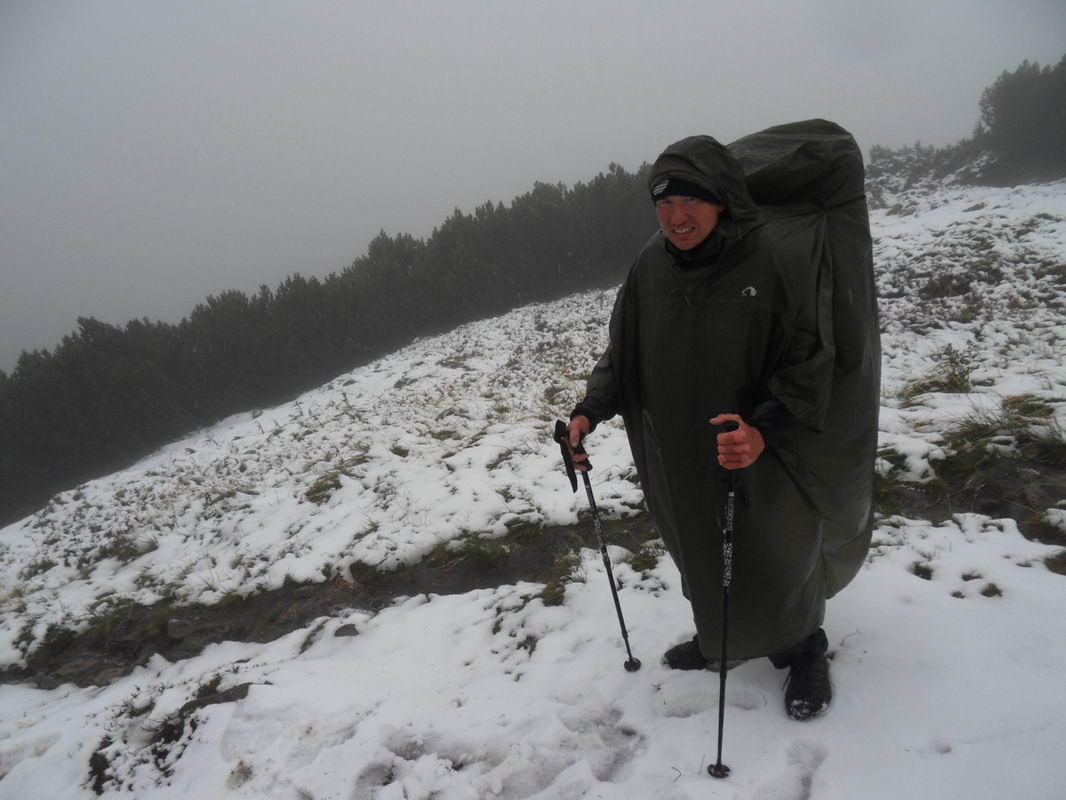 the Story about a campaign on Goverlu (a route "the Highest tops") on August, 29th 2010г.
In Ivano-Frankovsk we have met other participants of a campaign and our guide Alexander. The group has gathered small - 6 persons together with Sashej, all remarkable sincere persons, and we had time to get acquainted and become friends in that hour when bus sending expected. So the statement «bad people do not go to a campaign» correctly for all hundred percent! So, by the bus we have reached Kvass where zatarilis very tasty mineral vodichkoj, and have set out to a place of our first spending the night to village. Weather pleased us, on the way had time to admire surrounding nature. And next morning we were expected by(with) a surprising picture - below in a valley clouds lay, from height it was similar to whipped cream on a saucer:
With surrounding nature very much were in harmony local shaggy korovki on low legs which went on a pasture, filling all around with a ring of hand bells. Today at us the first serious marching day - we go on Petros. Weather excellent, shines the sun, visibility simply excellent, and even despite heavy enough transition for the unusual city dweller to loadings - mood excellent, heart constantly fades with admiration of beauty of the surrounding nature.
Have in passing seen the eyes well-known Ukrainian «chervonu rutu»:
All city problems and disorders are put out for a long time from a head fresh karpatskim by a breeze, and that blissful sensation of finding of of the present when you feel harmony with world around at last comes. I usually get out in holiday on the nature far away from a civilisation with its(her) vanity for the sake of this sensation. So, we rise on Petros, the picture therefrom simply does not give in to the description - thanks to a fair weather all Montenegro ridge and Goverla clearly!
After we have much admired kinds, there comes time of the next test - enough abrupt descent with Petrosa, stories about which Sasha of scarecrows us on road. Descent really abrupt, but thanks to that last days there was a good weather, it(he) was gave to me even easier, than the previous lifting. Though for the sake of justice it is necessary to notice that in crude weather this descent is really enough dangerous and precisely would leave indelible impressions.
Unfortunately, on it the period of excellent weather has ended - all night long there is a rain, it is visible, Carpathians want, that we did not relax and have seen them in different weather. In a dense cloud we go to the nearest small house where we will have breakfast. Probably, now we have appeared just in such place of a congestion of clouds in nizinke which admired yesterday since morning. It is necessary to tell, from above it looked better, than from within J. And after all today at us lifting on the highest mountain of Ukraine - on Goverlu! Well, we wanted adventures - here and they! Fortunately, the rain is not present, is simple very much syro, but because of a fog almost it is visible nothing - and here it is already sad.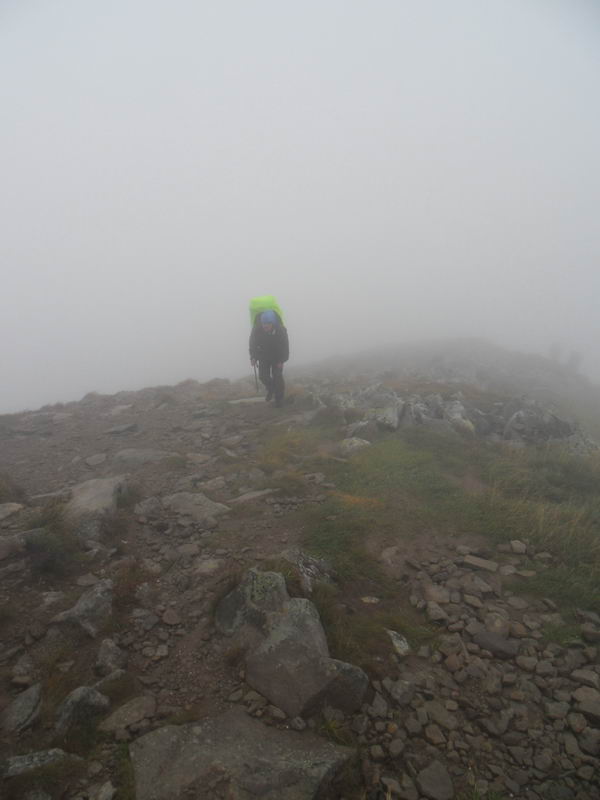 The bad weather has scared away many tourists and on Goverle we appear in proud loneliness though under stories of Sashi usually here it is very crowded. Weather worsens, and descent with Goverly though and not such abrupt as with Petrosa, it is given to us hardly. The strong wind, places so strong begins that has some times knocked me down; times could not be made to a step. Yes, now I understand, how much(as far as) to us have carried yesterday with weather at descent with Petrosa. However gradually the wind abates, we safely go down. On the way to a parking lot we see far away the site ahead shined(covered) with the sun - as the proof of changeability of local weather.
On evening parking the second porter joins us Oleg who brightens up impressions of hard day the brought delicacies and interesting stories.
Next day we make small simple transition because because of severe weather conditions on Brebeneskul have decided not to rise. Therefore in the evening we still have a lot of free time much to have a good long talk, and game in "contact" to guessing of the conceived words has rallied ours and without that an amicable command even more.
All night long again there is strong enough rain which does not want to come to an end even in the morning and consequently again spoils to us plans - lifting on Pop-Ivan is cancelled. But we make small lifting to see the well-known lake not Self-twisted where on mesnym to legends souls of suicides live, and bathing in this lake calls a storm. It seems that someone just has bathed recently in this lake because weather spoils in the face of, the rain is replaced by snow under which because of wet weather the bog … squelches I Will tell fairly, in trekkingovyh krossovkah to go on this medley it was unpleasant enough, so I advise to all to get boots. Besides, during a rain all footpaths turn to streamlets, therefore to owners krossovok constantly wet feet are guaranteed. But, on the other hand, this snow has added a little more extreme and new impressions in our campaign that we felt in the present karpatskom a campaign with all natural phenomena.
Here only it is insulting that lakes it is not visible almost - and after all on pictures it such beautiful!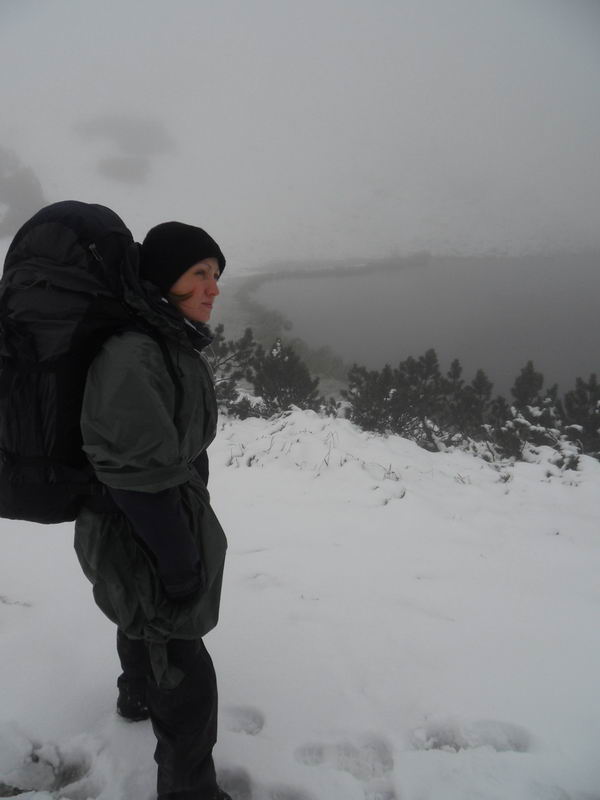 We leave snow and our route on rather equal road is continued - abrupt descents and liftings in such weather are unsafe.
By the evening already we come back «in a civilisation» - we spend the night though and in tents, but already under a wooden canopy on equal to a floor:
The nearby little shop diversifies to us the evening menu, and at cosy small restaurant interested persons have tried the well-known Ukrainian borsch with pampushkami and deruny with mushrooms. After morning transition on snow this evening sit-round gathering at restaurant was especially pleasant. We exchange contacts as for these some days had time to make friends in the evening, and it would not be desirable to lose touch. We collect things and on the asphalt road which has become already unusual, we go to the bus to Ivano-Frankovsk in the morning. There nearby to station the farewell dinner, and further our ways is arranged disperse(differ) - someone it is necessary to take a walk for day across cosy Ivano-Frankovsk, someone hastens(hurries) home.