I have come for experience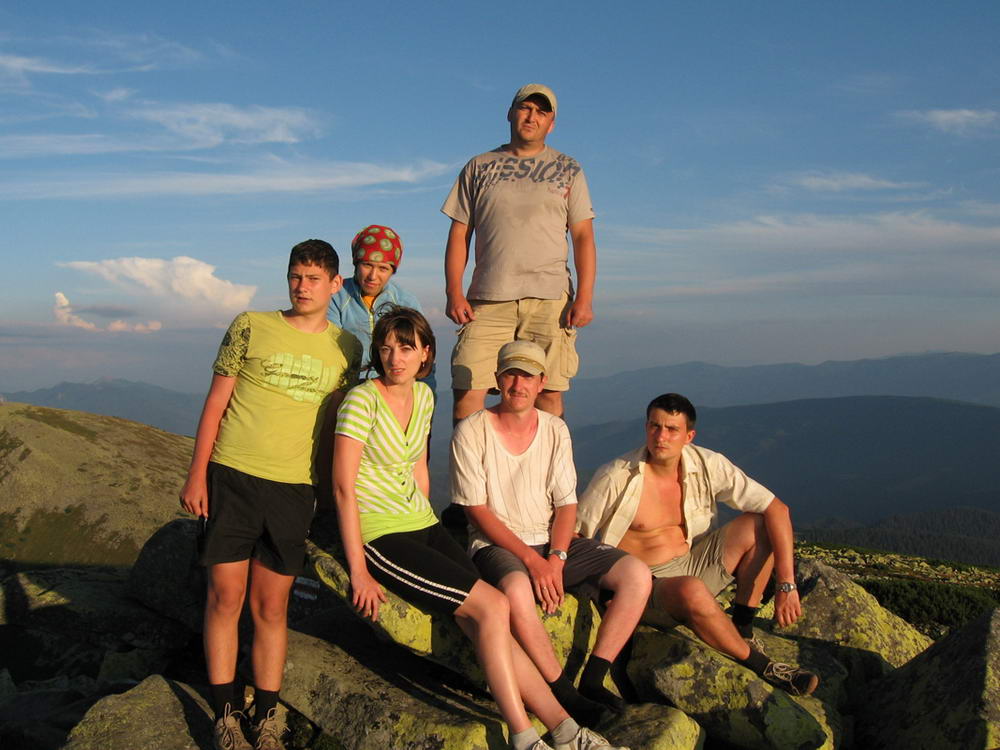 the Story about a campaign on "Wild Gorganam" on August, 1-8st 2010.
Everyone comes to a determination to go to a mountain campaign in own way. Someone searches romanticists, someone was called with themselves by friends, relatives have persuaded, and someone simply prefers productive leisure to a monotonous beach in an environment of animators and little tables with meal. My motive is much easier: I have come behind experience of foot campaigns on mountains, and also for acquaintance to area Gorgany which attracted me for a long time with the half-civilised atmosphere and majestic ridges, whence to the nearest settlements for 5-6 hours of the pedestrian to a course on not to the most convenient road. Thus, the tour choice «Wild Gorgany» has been predetermined. In the course of preparation for a campaign all should be bought from zero, being guided by recommendations on a site. As a result preparation has cost a pretty penny, but it of that costed, as all it will be applied to travel on the region. From footwear it has been decided to get trekkingovye krossovki about what I have regretted somewhere for the third day of a campaign when the ankle began to be ill. Fortunately, the sole has appeared convenient and firm and with honour has passed test by stony paths of Gorgan.
Some callosities were polished only, and those became faster result of wet socks (feet in such footwear easily get wet in karpatskih conditions), than poor-quality footwear. A lesson - it was necessary not to feel sorry for money and to buy special boots. Last things were bought already directly ahead of departure, but as a result it has turned out to collect the full marching complete set, from which only the first-aid set (a plaster and elastic bandage) and gloves with a warm cap almost was not useful (and thank God have been used!).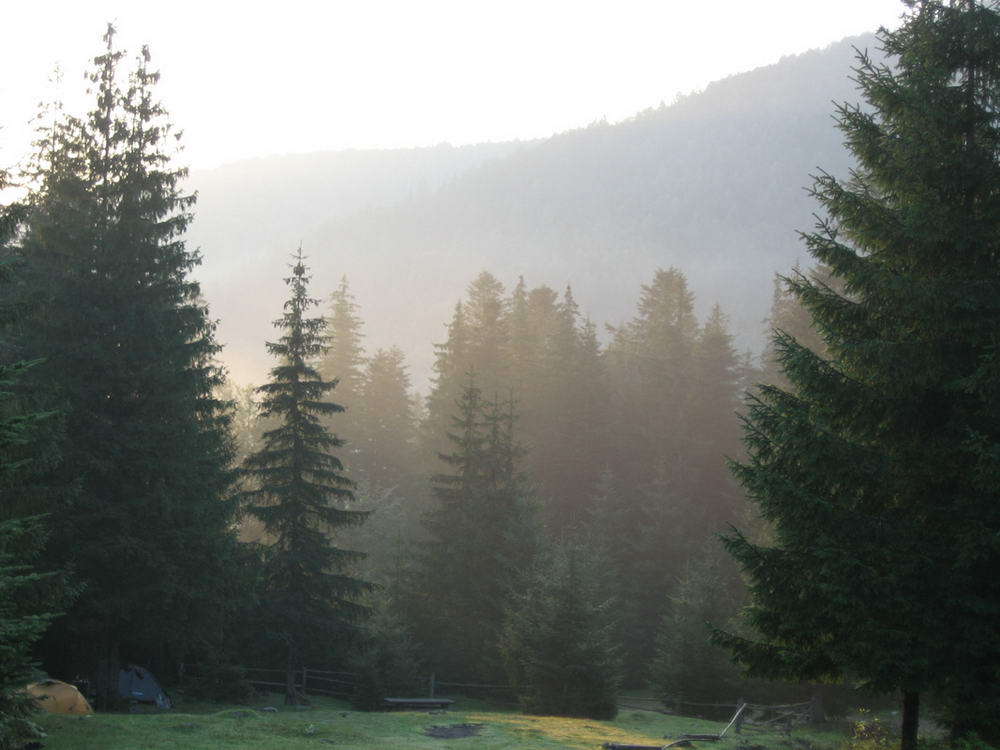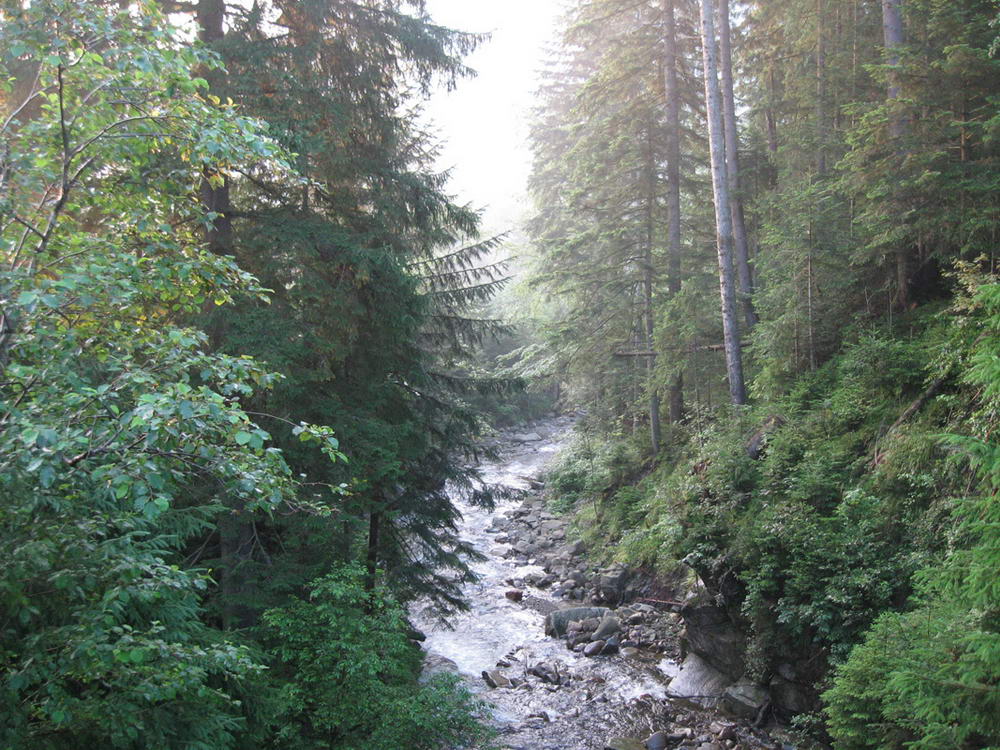 I had to go through Ternopol as the way to Ivano-Frankovsk through Kharkov and Kiev did not approach me on time reasons. Transport on a direction Ternopol-Frankovsk goes often so always it is possible to be assured that without the bus will not remain. Has been on the journey lost 1 karemat, but it is perfect other history (karemat has solemnly reunited with the owner after returning, at the same time in a campaign it was found out that enough small sidushki under the bottom part of a body, but high-grade karemat it is good to spread in tent for the night for bolshego heat and softness).
At half past one all our company, except for one more assistant to a mountain guide of Sashi who has decided to go with it for the company on August, 1st has gathered. Thanks to it our diet has been a little diluted by Oleg's products, at the same time we have heard a heap of various stories with which traditionally treat on Carpathians all beginners. Our group consisted of 7 persons: 2 mountain guides, 2 from the centre of Ukraine, 2 from Donbass and more one girl from Moscow which has decided to try an extreme. Everything, except mountain guides (naturally), were in a mountain campaign for the first time so we stood at one level of preparation. At station it was found out that we will start not from Osmolody as it is written on a site, and from Old Guty on time by reasons. Basically, to us was without a difference if only the campaign was interesting!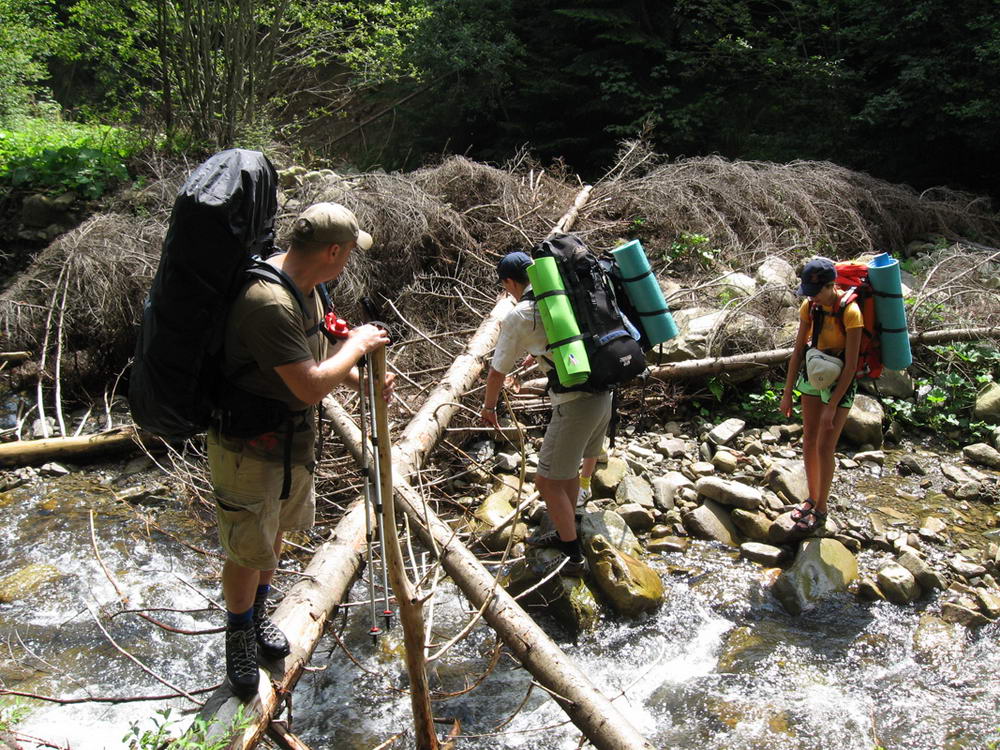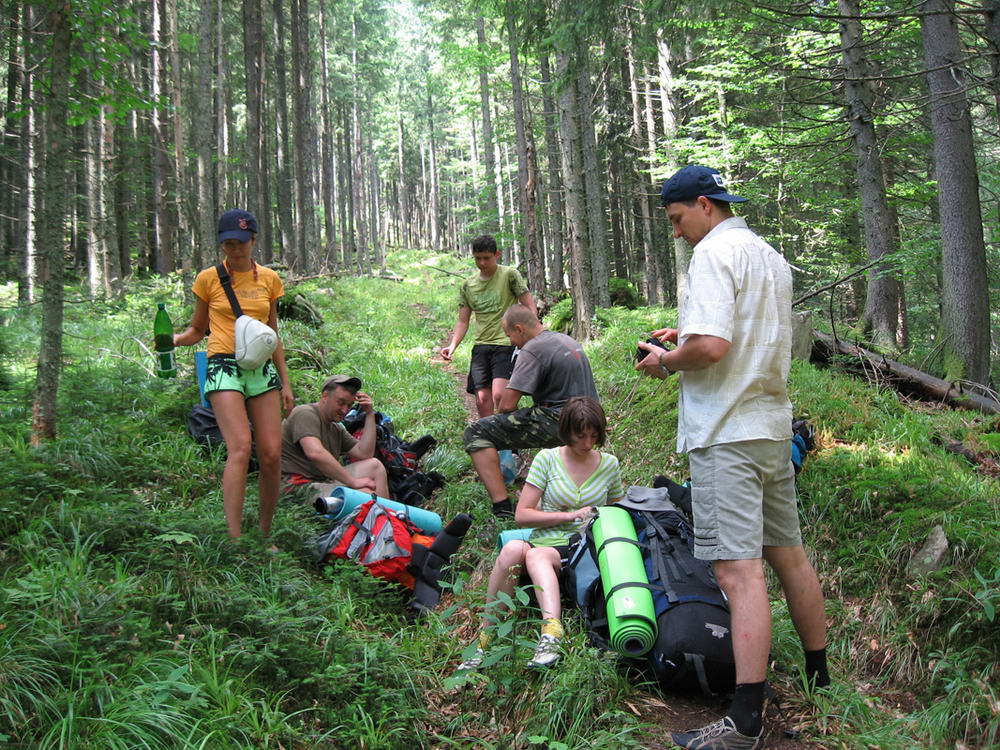 To reach Old Guty 2 hours, and 2 hours all these I were necessary looked at rain clouds in the south which gradually approached on us. The mood was not so as I krossovki obviously have not been calculated rainy weather, and I have already had heard plenty of stories how the previous group has got in mountains under a three-day rain, and I would not like to share their lot at all. Running forward, I will tell that with weather to us has carried, and only 1 day us watered some hours a never-ending rain, on what separate thanks of Gorganam.
After the arrival still there was a rain, and after short meditations we have decided not to leave today on a route, and to stay the night under village. For me it there was a first experience of installation of tent, in what to me Sasha and Oleg have helped. The first night in tent open-air was a little unusual, and I all could not fall asleep in any way that has not prevented me to wake up then in 7 mornings and to wander after district, photographing vicinities and the bridge in morning light (photographers-fans will understand me).
In 10 mornings we left in a way, and difficulties at once have begun. It has appeared that roads along the mountain rivers tend to cross them several times. It became clear, why all local go in rubber boots or galoshes))))) Having saved some times footwear dry, as a result has all the same had wet feet, as with water in Carpathians very well: it flows from mountains, and often the footpath goes on an original streamlet.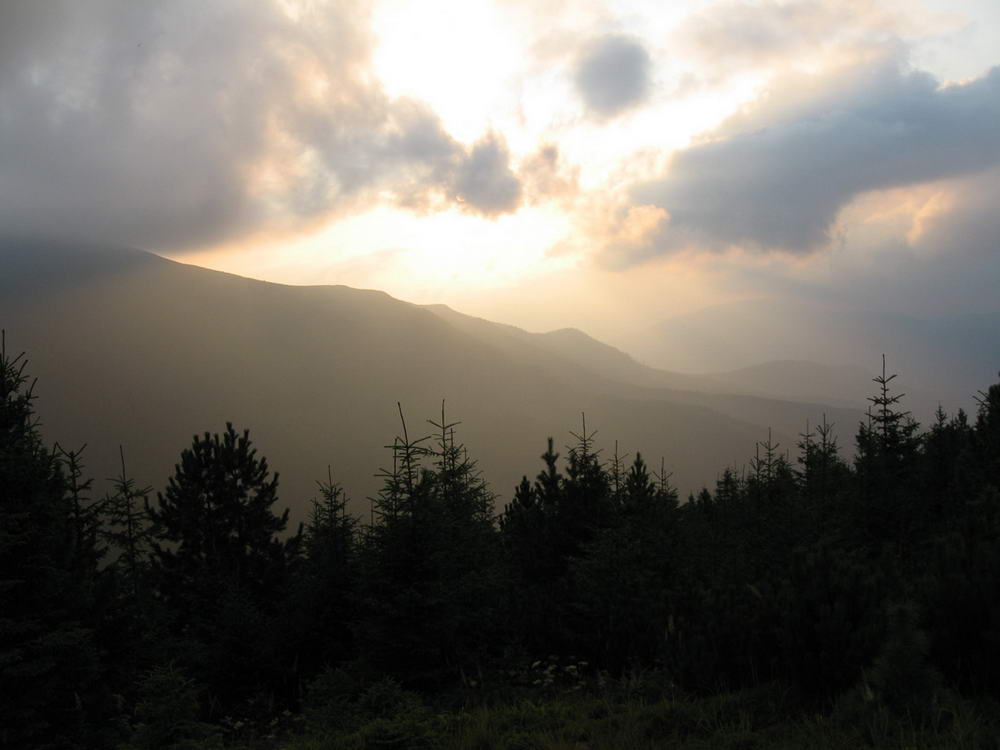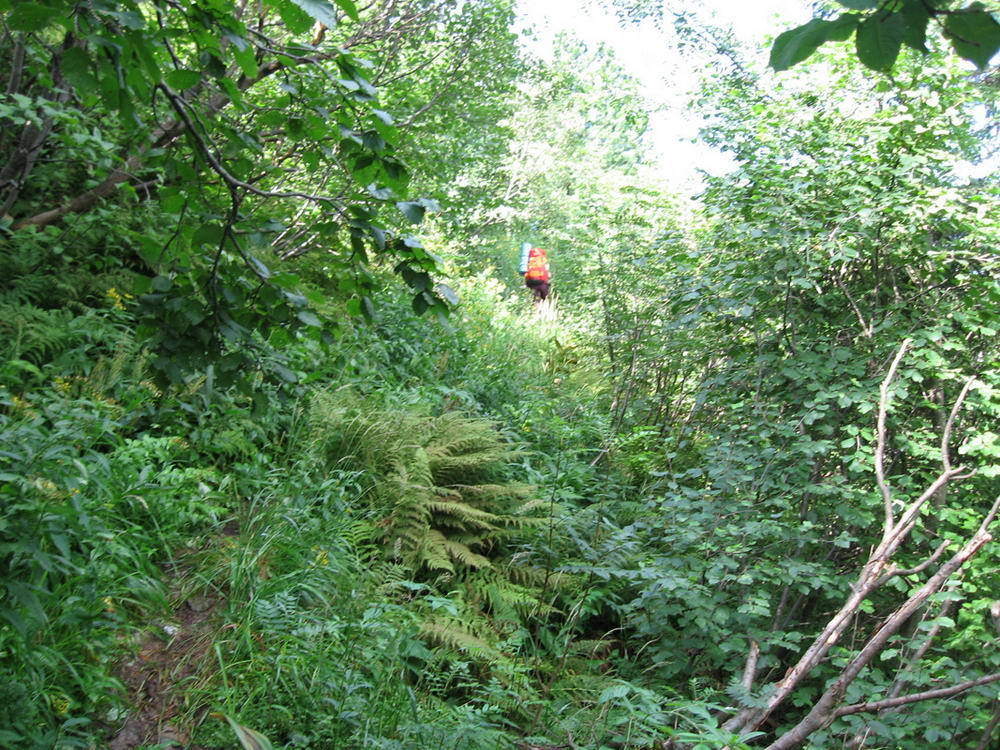 The first lifting during which time the moment has come has soon begun to ask a question "And what for it to me it was necessary?", as with neprivychki it is very difficult to city dweller to go with a backpack constantly uphill. The same was felt by all other beginners, but there is nothing, the road already has begun... For the second day we spent the night on polonyne Serednej, in an isthmus between mountains High and Average, the excellent kind on a ridge on which we should ascend (it is necessary to recognise, its kind in a fog personally frightened me) whence opened.
The third day became for me to the most difficult: we have ascended to a ridge on a streamer, have passed on a traverse by top High, have dropped in for some minutes on top of Igrovtsa (1803) to be photographed at a heap of a stone, and have then gone down on pass Borevka (on the journey Sasha has shown to us where we still should reach - on horizon Big Sivulja was seen mountain tops - and me this distance at all did not inspire). After a dinner the hardest lifting on a ridge then the road became much easier has again begun.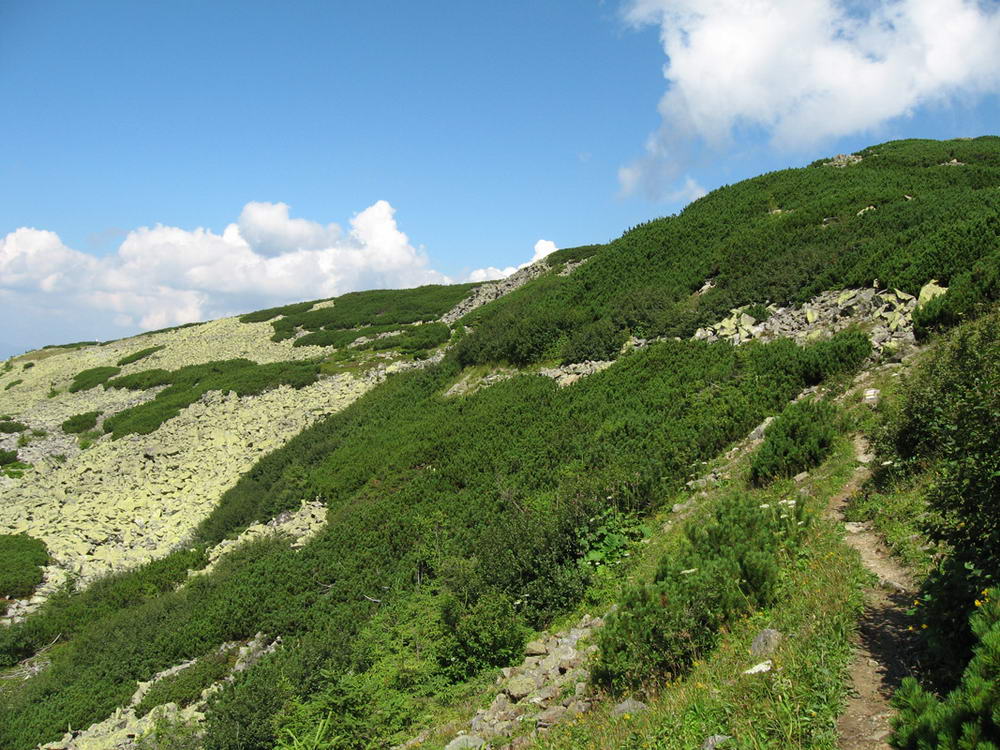 For the third day I have understood that "Gorgany" - stony scatterings means. Stones were everywhere, the different sizes, underfoot, at the left, on the right and deeply below. If not a good sole, to my feet very much not pozdorovilos... After an exit on a ridge we have gradually reached mountain Big Syvulja, have made a memorable photo at height of 1836 m (the highest point of Gorgan), and then the heaviest has begun for me descent in a campaign: we went about an hour downwards through wood on an abrupt path from stones. Some times I was gained only by sticks as feet and knees any more did not obey. After that descent the children's trauma of a knee which did not disturb me 20 years though I could and pull simply sheaves during one of falling has reminded of itself. Anyway, after that the elastic bandage became my faithful companion for the remained 3 days though especially it did not rescue me. During a halt I have with the last bit of strength put tent, and all remained time simply sat at a fire as the left knee refused to be bent without serious consequences. This night I slept like the dead (and without a knee) …
The fourth day has met us a fog which has not allowed to see in all beauty a precipice the Scorching heat. We have slowly walked (how much to me allowed a knee) along old polsko-Czechoslovak border, from time to time verifying our position on boundary columns. On the way I the eyes have seen, how the tourist track because of deforestation in the Zakarpatye area (what it was mentioned on one of tourist sites) is destroyed that only has complicated route passage, after all we had to wind along road, bypassing sometimes blockages of trees and a dirt on dense thickets. On the way I saw set of traces of horses and cows so it was necessary to be surprised only how cows move on such narrow mountain paths...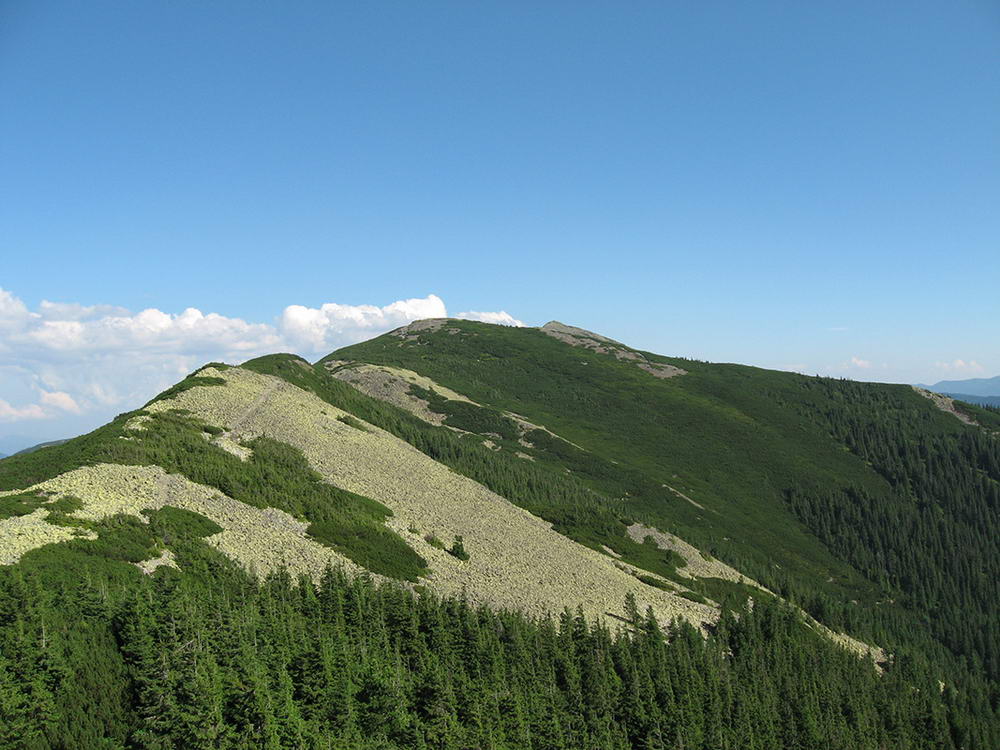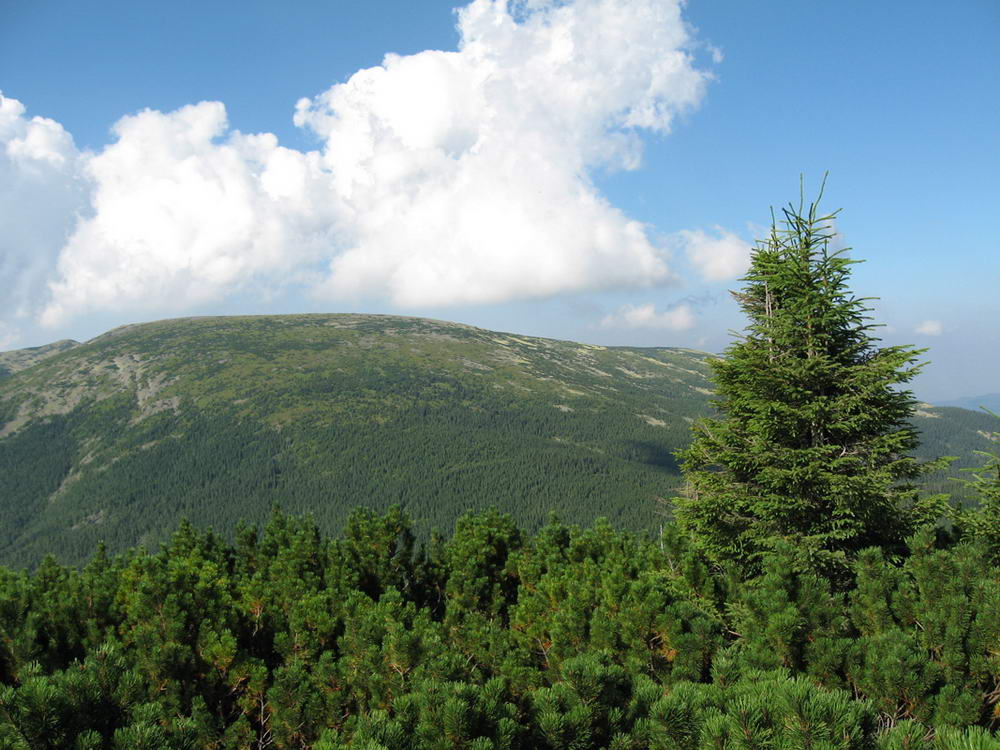 For a dinner we have got hold of Huzul cheese I (recommend) also milk, and at once after a dinner the rain which watered us to the pass of Legions (that day we has begun passed on a ridge of Tavpishirka, at the same time having subdued mountain Katerina (1464. Descent from mountain Katerina passed through dense thickets of the Alpine pine (zherep in a local way), which branches should be removed accurately not to tear a cape or a backpack. Descent to pass of Legions has occupied some hours in which course we have lost height half-kilometre (and descent was abrupt enough). On the pass there is a memorable cross to the Polish legions which were lost here in a considerable quantity during 1st world war. The shepherds who have met to us have advised to spend the night in a small house below where there was a water and fire wood, and that day Sasha has decided not to continue a route on Bratkovsky, and at once to go down in Bystritsu (our terminal point) on road (2 persons in our group constantly complained of weariness, the knee was ill me, and he doubted, whether it is necessary to subject us to excessive loadings). In the evening the group most part was arranged in a small house (as they there slept five together, mind I will not put), and we together with Sashej easy slept in tent. A lesson: as though it was similar to the house, in tent at least will be warmer...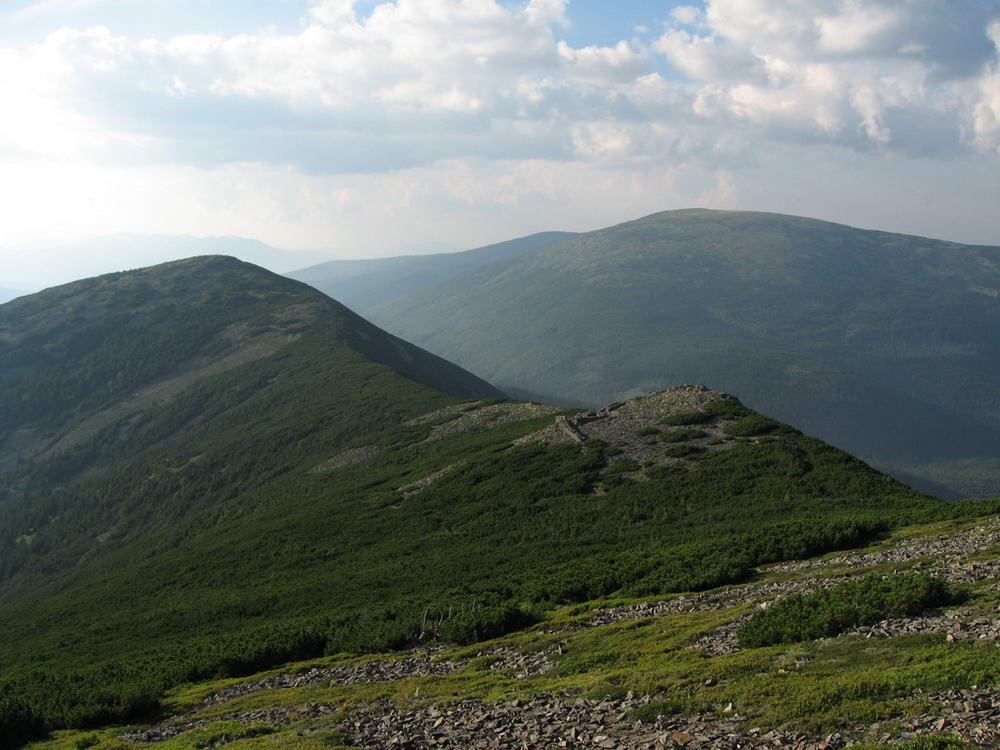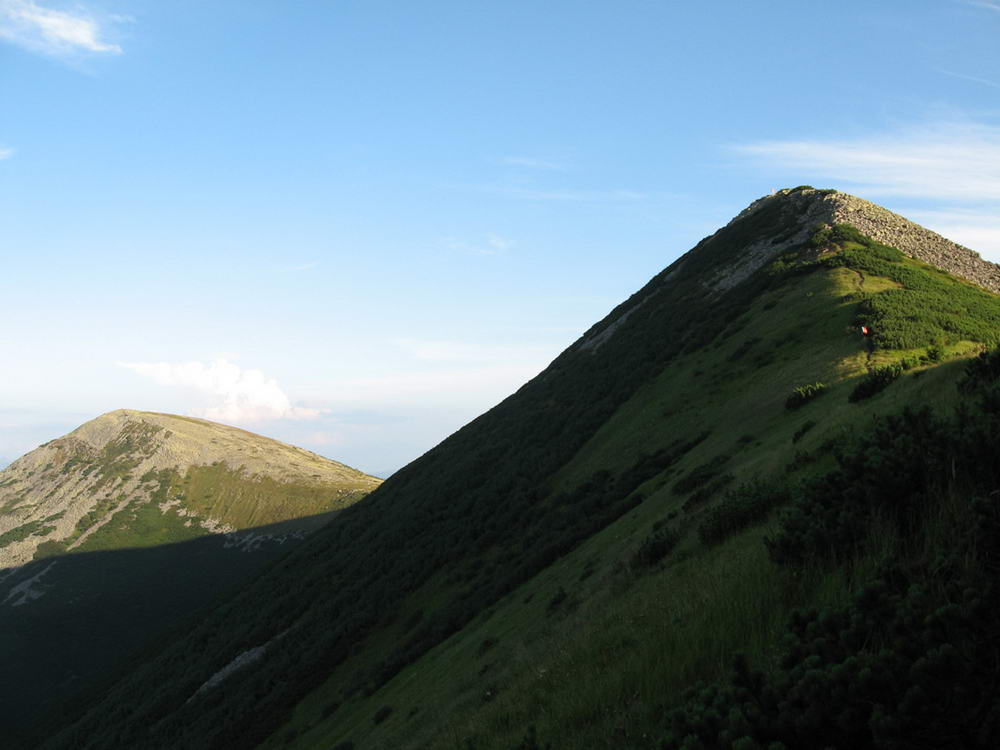 Penultimate day was very simple: we have passed for 5 hours road to Bystritsy, from time to time jumping on river stones then have stayed the night near the village in a convenient place where there was fire wood and water. The local shop has allowed to touch a civilisation though I, having entered into it, at first did not think, what exactly needs to be bought, as in a short space of time stay in mountains has simply weaned from money)))))
Last day we have reached a bus stop (it was necessary to go about an hour), and soon the bus has taken away us in Outdoor, whence we have already reached Ivano-Frankovsk. Before departure we have exchanged contacts: who knows, can, still we will meet...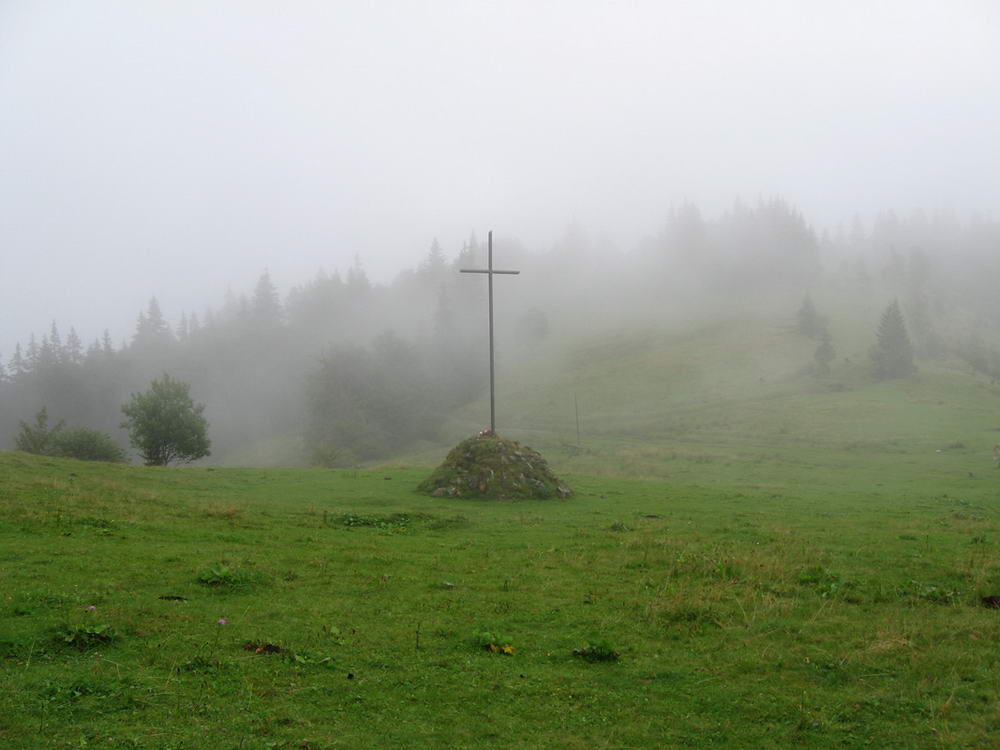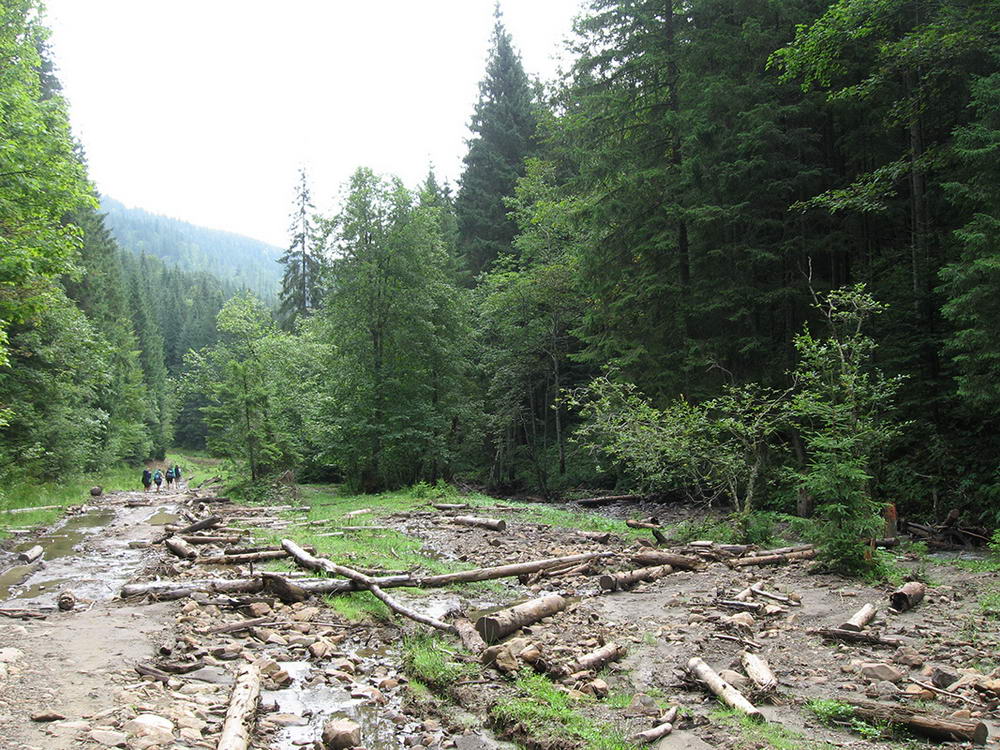 Short conclusions:
1. Without good footwear in mountains there is nothing. The best footwear - special boots which do not allow to a foot to be tired, and a foot at least will be drier. Trekkingovye krossovki - too it is good, but during a rain and on water they are useless. And here gym shoes are a death to feet... Will reach, but 10 times will regret that have come to mountains.
2. Descent from Big Syvuli on poloninu Rushchinu has appeared the heaviest for me. To go on stones among trees for me became too big test.
3. I very much liked a campaign, first of all the loadings, and also confident work of a mountain guide of Sashi which constantly supervised a group course, from time to time waiting lagging behind.
4. Karpatsky water at height is more tasty, than below.
5. The Trekking tour with a backpack very much warms up an organism so it is not necessary to dress warm clothes at once, even if first cold.
6. Mountains - not a toy. Here it is possible to be injured, even to be lost, but those photos which I therefrom have brought, stand those efforts which I have spent...
Evgenie Zazdravnyh, Gorlovka.