Festival Kazantip 2006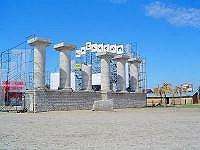 The festival is from the 15th of July until the 26th of August 2006.
The ultimate mega techno house party. 6 weeks. Expirience the rush of Crimean summer. Sun down to sun up. Woodstock a la Russia? An Ukrainian Ibiza?
A paradise beyond your wildest immoral dreams, fun-packed, long sandy beaches, warm sea and loooonng nights. 12 dancefloors featuring the cream of Russian and international DJs.
KaZantip is located at the south-west coast of the Black Sea in the Crimea, Ukraine. KaZantip is a virtual republic and is every year new founded.
How to reach the KaZantip festival:
The easiest way is to fly to Simferopol International airport where you then make your way to KaZantip. You can also fly first to Kiev then make your way to Simferopol by plane or train. At Simferopol we will meet you and ensure you get to KaZantip without delay. We recommend that you book your trip trough a travel agency with experience in dealing with Ukraine.
There are also other ways to reach the KaZantip festival. You can take a coach to Simferopol from every major European city which one-way should take around 48 hours, obviously this is cheap but not the most comfortable way to get to Kazantip.
Accomodation:
Night time temperatures with an average of 20 Celsius or 68 Fahrenheit are perfect for all-night dancing. Sleeping under open sky can get chilly. Staying in a tent, may be fun for a night but the novelty soon wears thin.
There are several accommodation possibilities around the KaZantip festival from the simple military tent to the double room with own WC/Shower cabin. It's up to you if you want sleep simple together with others or more private in your own room with comfort similar to a 3 star hotel.
We advice you to book before arrival as accommodations are limited and without knowledge of the local language it can get difficult to find something suitable.
In 2006 for EU and Swiss citizen there is no more a VISA required for visiting Ukraine. However a passport which is at least for another 6 month valid is needed.
In Crimea cash in $ or € is welcome. It can be change at many official places. There are also some ATM machines for Credit Card. EC cards. Near the festival not many shops or restaurants accept cards.
GSM phone with roaming are working at the festival zone. Local prepaid cards are available without registration.
Live costs in Crimea are low and a average of 20€ for regular drinking and eating a day is enough.
Buying food is easy as there are many shops and small markets. Furthermore cafes and bars are in great abundance. Prices vary from reasonable to cheap matching KaZantip a more than viable summer alternative to events.
The people from KaZantip are very friendly and it is easy to get in contact. Sexual behavior differs from European countries and is much more open. As a foreigner your attraction to girls high (there are plenty of beauty). Use your brain and condoms.
Crimea is besides the KaZantip festival a very nice peninsula with many interesting places to visit like Jalta, Secastopol, Schwalbennest and other places.