Do not need to relax
About a hike in Crimea over the sea 4.08-9.08 2013. Author: Sofia Ackerman. Rating: 4.5 That ended our way: finally we Balaklava bay! We rejoice because all lengthy transitions, exhausting climbs and no less difficult slopes left behind. Already you can relax, take a shower and normal civilized stretch your legs on a soft little bed. But on the other hand somehow sad at heart. Have to say goodbye to the people that had become friends, with fresh mountain air, spring water and beautiful scenery. Route "Over the Sea" will make you sweat , do not hesitate. Especially on the first day , when it is necessary to dial a decent height, climbing on Ai-Petri. Next - easier. But, as we said our instructor Alex Arkhipov : " Relax do not have to ." Our first transition was complicated by the fact that we had to catch a decent distance . Due to the delay of trains at the station group met for a long time , and we arrived at the scene by the evening , almost immediately set up camp in a beautiful place near the waterfall Uchanssu . The first transition was like a nightmare to climb the mountain had quite a long time, but how nice it was to be on top ! And then according to plan , we would set up camp and relax , but no. Had to stomp a whole day for the reason described above. But despite the fact that it was hard , I liked it. For what drove, and then got.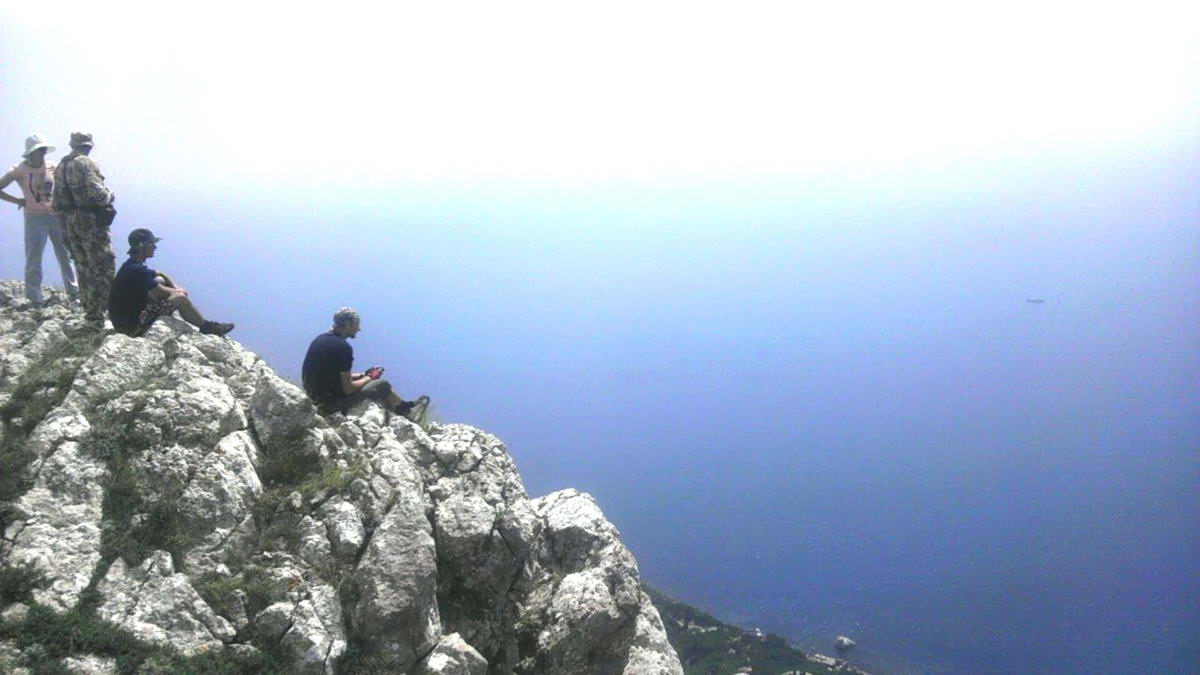 I do not want to keep the chronology of our campaign , all perfectly set forth in the description. So I just sharing experiences. All subsequent transitions were much easier, but again I repeat - " do not need to relax ") ) ) . I loved how sometimes quite the same type of scenery around suddenly gave way to breathtaking views , when we suddenly found themselves very close to the edge of the mountain right over a cliff . With climbing overnight in the mountains are quite cold , so do not neglect sleeping bags and warm clothes . The first couple of nights we had to wrap up all that was with him . In the second half of the hike was much warmer at night , and sleep has become much easier , as there was a few extra things that can be placed under the head. Very pleased with the opportunity to thoroughly wash, originated somewhere in the middle of the campaign , when almost immediately after Bajdarsky gate we went to the lake. The lake was quite clean and very pleasant swimming dawned . Not easy was our last march . However , I liked it more than others, because it was the most interesting and picturesque . In particular, part of the path runs along the narrow path that runs along the edge of the cliff just above the sea . Overall I can say that the route is not easy, but should not be afraid . As for me it will be interesting how people with good physical preparation , as the author of this review and its companion , so remaining feasible for those who do not possess . As proof of his words, I write that with us in the campaign went a family in which , inter alia, and the girl was 5 years old . Of course, it was hard and they had to go somewhere in the middle distance, when we went out to the car track near Foros monastery. But its part of the campaign this girl lasted extremely bravely , passing itself (!) Almost the entire distance . I would also like to note the merits of our instructor , guide and hopefully a new friend Sasha Arkhipova . Travel with him was easy and pleasant . This man led us to care , preparing food, distracted and entertained fascinating stories about mountains and much more. And patiently answered all the questions. In particular, " how much we have to go? ") ) ) . In general, with him " and into the fire and into the water ." As for me , the campaign - the ideal holiday for people like us , the inhabitants of cities. I long ago intended to try their hand at such an event with tents , fire and all the attendant . And as soon as an opportunity , realize his dream . Received invaluable experience in the campaign in the Crimea , we do not intend to dwell on this , and the money has already been postponed to the next sortie. Hopefully this will hike on Turkey , of course, now Outdoor Ukraine, manifested itself an excellent organizer , and a great instructor Sasha Arkhipov . So enough to surf the Internet ! Have you found exactly what you need . Trust Outdoor Ukraine, and you will never regret . Collect the most necessary and feel free to go off. See you in the mountains!