First Carpathian trekking – impressions of newborn mountaineers
Автор: Espen Eriksen, Norway & Olga Lytvynova, Ukraine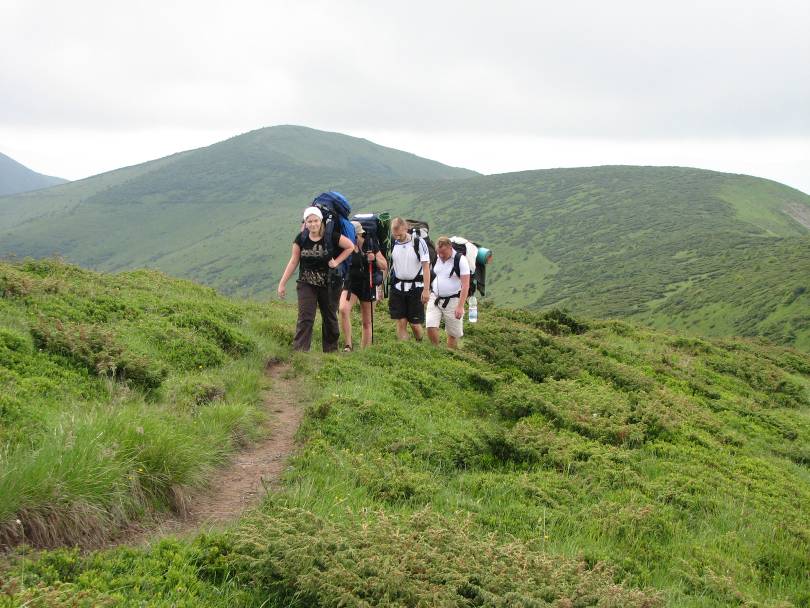 Report on Carpathian mountain trip (July 5-10 2009)
The first day for one of us started as it should start for newcomers in trekking - from falling after first 20 meters of mountain ascending. Olga rolled down with her backpack after losing balance during the first steep slope ascending. Luckily, she did not hurt herself and did not affect other people behind her. This fall added feeling of baptism of fire for her and a bit of smiling and good humor for others.
After this small accident she was awarded with a trekking pole and was using it until the end of the trip. After completion of this trekking tour she can acknowledge that such poles are very handy when ascending or descending steep mountain slopes, especially for beginners.
Our group of 11 mountaineers – assembled to conquer the highest mountains of Ukraine in six days starting from July 5, 2009 – was a multinational one: it included 7 Ukrainians, a Lithuanian couple, a Russian girl from Moscow, and me – a Norwegian Viking.
That first day of our hiking trip was also tough for a Lithuanian couple – they were poisoned by a smoked sausage and – as a result – the Lithuanian girl was unable to continue her trip. Luckily, an off-road car that looked like a piece of junk passed nearby and the Lithuanian couple got a ride. Finally, everyone gathered at that day's camping place and started to put up tents and cook dinner.
Figure 1. Day 1: Putting up tents
The second day was memorable by both ascending and descending Petros mountain. It started with losing the Lithuanian girl who gained a lot of energy after previous day's ride in a car and wanted not to be at the rear of the group and therefore decided to go 2 hours earlier than everyone else. She took the wrong turn and almost ascended another mountain by the time when she was found by our guide Vyacheslav and her husband. In the meanwhile the other part of the group was enjoying an unexpected rest enhanced by songs sung by our group's bard Ivan. After having a good rest our group continued its way towards the Petros summit.
Figure 2. Petros mountain is almost conquered.
Conquer of Petros peak was celebrated by a few drops of cognac:
Figure 3. We made it – celebration of Petros ascending.
For us personally descending Petros was even trickier and more difficult than its ascending. We were lucky that day as the weather was favorable to us – sunny and without rain. If it was the weather as we had the following day – a shower with a cold blasting wind – the descent from Petros would be barely possible for us.
Figure 4. The side of Petros that we descended from.
The third day was the hardest one for both of us. The underlying reason was in the weather conditions: strong cold wind, shower, and deep mist. Five people from our group including us did not dare ascend Hoverla under such weather conditions. We were waiting for the others, who went to Hoverla summit, in a tent located 200 meters lower than Hoverla summit, trying to warm ourselves up and hide from the wind and rain. The day number three was also devoted to visiting Nesamovyte lake by a majority of our group (both of us and the Lithuanian couple decided to wait for the others to return in the camping site because of adverse weather conditions). That trip to Nesamovyte lake was memorable to its participants by soaking in the nearby marshes and subsequent drying of the wet socks, footwear and clothes by the fire the next night. That day we were even considering possibility of finishing our hiking trip the next day if the weather did not change.
Figure 5. Drying clothes and footwear near the fire.
But the following day was not as bad as the previous one, so we decided to continue hiking. Actually, all days that followed the third day were much easier than previous days – no steep ascents and descents, and the weather was quite favorable. The day number six, in our opinion, could be easily eliminated from the trekking tour as it was just walking through the National Park area towards Vorokhta village. The pick-up point for the team could be easily appointed for the fifth day evening near, for example, Hotel Desyatka in Vorokhta. One thing is still in our minds: inability to eat (or even think about) the pork fat and ketchup as it was a regular dish for lunch each day and we did not eat as much pork fat during all our previous days as we did during the trip. Moreover, after this trip we started appreciate decent food, as well as comforts of life like bathrooms and good sleeping conditions much more than we did before. And of course, we will never forget beauty of the mountains, especially charming pine-tree forests and mountain rivers, as we made a lot of pictures of them.
Figure 6. A beautiful landscape in Carpathian mountains.
One more issue that we would like to point out in our review is that our guide Vyacheslav spoke fluent English. For a foreigner this means that you will be able to easily communicate with him. Furthermore, it will be a good idea (or even necessity) for a group as large as ours to have two guides: one in front of the group pointing the way to go and the other at the rear to ensure that everything is OK with retarding mountaineers as we were during this trip.
We also would like to thank all organizers and participants of this trekking tour – without you it will not be as memorable and pleasant as it was.
Espen Eriksen, Norway; Olga Lytvynova, Ukraine