Train - Ukrainian railroads
Extensive network of railroad connects Ukraine with many European and Asian countries. Trains are cheap though slow and not very comfortable. First class compartments are mostly air-conditioned (very important in summertime) and have 2 berths (some trains do not have 1st class option), second class has 4 berths. We recommend to buy tickets for the whole compartment, especially when traveling alone. Prices for foreign citizens and Ukrainians are the same. Trains are the most popular and easy way to make intercity trips in Ukraine.
General Information
Total length of railroads is Ukraine is 22800km.
Extensive railroad network connects majority of cities, towns and villages of the country.
Trains are a very reliable way to travel within Ukraine, especially in the winter time when many domestic flights are cancelled or delayed due to poor weather conditions, while car travel is not good either and bus travel, being quite uncomfortable, will take ages. On top of that many cities just cannot be reached via air. A train will definitely be en-rout and will reach a destination point on time or with minimum delay, no matter what is the weather and time of the year. Therefore, train travel in Ukraine is so popular among travelers. Not to mention it is very inexpensive.
Purchasing tickets
Train tickets can be purchased at the railroad stations and offices, and in a few travel agencies.
Please, note that knowing some Ukrainian or Russian is a useful skill while getting the tickets at the railroad office since knowing foreign language is not a requirement for working there.
Also, tickets cannot be reserved or put on hold, they can be bought only.
The tickets are bookable within 42 days term prior to the departure date. Train tickets are not available earlier.
During off seasons there are no problems even if buying tickets 2-3 days prior to the departure. When Holidays all tickets are sold out much earlier, sometimes no tickets left 3-4 weeks before a travel date. Bad weather conditions may become another reason for train tickets deficit since flights are cancelled or delayed and trains become the best option to travel.
But weather conditions and other reasons are unpredictable, so it is recommended to take care of train tickets about the time they start being available.
The ticket tariff varies from USD 10 to USD 50 and includes insurance and taxes. Payment for the linen and towels is due upon check-in to a steward directly in amount of UAH 5-10 (which is USD 1-2). Make sure you have some local currency for paying for the linen.
Tickets are typed by means of printers on the specially designed forms with water marks. These templates are bilingual - Ukrainian and Russian, inserted data is in Russian.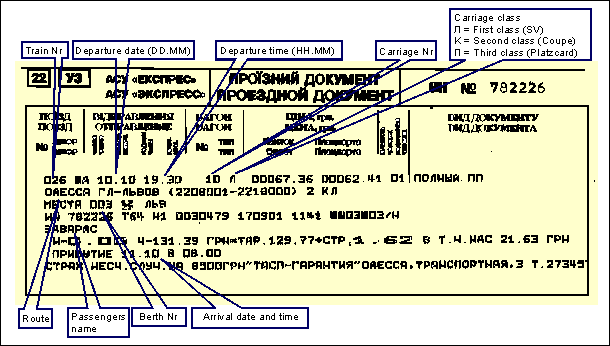 Rail tickets data contains passenger's last name in Russian. You may be requested to show your passport for identification upon boarding a train.
'Express-2' system is used for the tickets booking network. This is a unified system for all FSU countries, but it is not connected to Western European booking systems. Therefore tickets for train traveling in Ukraine cannot be bought outside of the country.
You can buy your train tickets with Unipress. Please, fill the train booking request form.
Luggage
Luggage weighting up to 35 kg (80 lbs) is included in the ticket tariff .
If you have more luggage you can buy an additional ticket and have permission for 70 kg (160lbs) of the luggage. For transferring bulky objects, baggage carriages are used.
Food
The majority of trains have dining or buffet cars, which serve alcohol and soft drinks, water, snacks and some cooked meals. The latter is not advisable.
It is a good idea to take some food with you: bottled water, snacks, canned meat or fish, vegetables and fruits, cereal and packed milk, anything that will not spoil if stored in a room temperature and you can live on for the length of your trip. There is no cooler in carriages, so packed food is the best. The same applies if eating at a train restaurant.
Getting food from train station vendors is not safe, no matter how delicious it looks. Fruits and vegetables are exception. Just wash them properly. Peaches, tomatoes, watermelons, apples, grapes and all grown on Ukrainian soil is just irresistible.
Hygiene
Always take personal supplies for hygiene, since it is a rare occasion when one finds toilet paper supply in a train lavatory or the paper might appear to be of a poor quality. Moisturized tissues will be handy too, for tapping water is mostly available at lavatory rooms.
Disposable cups, plates, spoons and forks will serve you good if your train trip is lengthy and you are taking food with you. We would never recommend to use train crockery as well as water supply there. Carry bottled water for drinking, brushing teeth and washing up.
Smoking
There is no division into carriages for smokers and non-smokers on Ukrainian trains. It is allowed to smoke in a wagon platform of long-way trains. The platform shouldn't be next to the stewards' cabin. It is prohibited to smoke in cabins and passage ways.
It is not allowed to smoke in Suburban Trains as well, but this rule is often violated.
Security
Traveling by train is as secure as the other transportation options if you follow some simple advices:
Keep money, documents and valuables on yourself.
Do not leave your cabin for a long time.
Keep all your luggage in special boxes under lower berths.
Do not leave your luggage with strangers. The luggage can be placed in your cabin or stored in a luggage-car.
Lock the cabin door during the night time.
Do not accept food and alcohol from unknown passengers.
When an opportunity offers travel by Express trains. Get 1st class tickets when available. You can also travel alone if you wish - just book a full cabin for your private usage.
Train classification
Train classification in Ukraine differs from European one. Carriages and cabins do or do not have some usual for European or American traveler amenities. To serve you better, we have made a Ukrainian Train Guide with some simple and detailed classification.
Express Trains

These are the best trains, usually going overnight between big regional centers of the country. Those trains make quite a few stopovers en-rout, have carriages of good quality and OK service.
Express trains usually have 1st, 2nd and 3rd class carriages.
Some of those trains include 1st class carriages for peak seasons, and exclude them for the rest of the year.
Express train numbers vary from 001 to 149.
Passenger Trains
Quite slow trains, making numerous stopovers. Traveling might take up to 30 hours for long-distance routs. The quality of a train depends on a rout and may vary from good to barely acceptable.
As a rule, these trains have 2nd, 3rd and 4th class carriages.
Passenger train numbers vary from 171 to 699
Suburban Trains
There are two sorts of these trains: electric and diesel. The trains go within a region limits or between two regions close to each other. Quality of the trains is very low and the trains are extremely slow, usually overcrowded, especially in summer, have no sleeping berths. Short distance travel might take up to 6 hours, while going by car would cut the time twice.
Train Carriages

Carriages' classification in Ukraine differs from European standards.
There are 5 types of carriages on the trains in Ukraine: SW (sleeping wagon), coupe, platzcart, common wagon (with numbered reserved seats), sit up (on suburban trains)
For convenience we have put classification - 1st, 2nd, 3rd and 4th class.
1st class, (SW), sleeper
This is the best type of carriages in Ukraine. Every carriage has 9 cabins, 2 berths in each cabin.
Beneath the lower berth(s) there is a box for luggage, which can accommodate 1-2 medium bags. Bigger storage for luggage is in the niche above the door. There is a small unfolding table by the window. Every cabin has a door lock and can be locked from inside.
There are two models of 1st class cabins:
- with horizontal berths (two berths on the same level)
- with vertical berths (one berth is above another, those cabins usually have a wash-stand under unfolding table lid)
Each carriage has WCs with wash-stands, 2 per each carriage.
1st class cabins are air-conditioned at the summer time. Air-conditioning is functioning while the train engine is working. Therefore it might be rather hot in the first hour or so of the trip and when the train is making stopovers.
One or two stewards serve every carriage.
2nd class, (coupe), sleeper

2nd class is usually quite acceptable type of carriages. The quality depends on a train.
Each carriage has 9 cabins, each cabin has 4 berths - 2 lower and 2 upper ones. There are boxes for luggage below lower berths. Bigger storage for luggage is in the niche above the door. There is a small unfolding table by the window. Every cabin has a door lock and can be locked from inside.
2nd class cabins in Express trains are usually air-conditioned but not always.
Each carriage has WCs with washing-stands, 2 per each carriage.
One or two stewards serve every carriage.
3rd class, (platzcart), sleeper

Not the best choice. Each carriage has 54 berths, among which 36 berths of normal type (in cabins) and 18 side located (along the passageway). Berths are in two levels.
Cabins have no doors and cannot be closed.
There are boxes for luggage below lower level berths in cabins, and small luggage niches below side located ones. Under the upper level berths there are small berths for storing the luggage.
Each carriage has WCs with washing-stands, 2 per each carriage.
One or two stewards serve every carriage.
In spite of very low quality of 3rd class carriages they are popular in Ukraine, the reason is their very low tickets price.
4th class, (common wagon)
Totally not acceptable option.
Actually, this is a 3rd class carriage, for which tickets are sold without assigning exact berth numbers (or just with symbolic number of a seat ). The unlimited quantity of tickets can be sold for this type of a carriage since it is supposed that it can accommodate 150 persons at a time.