Pylypets ski resort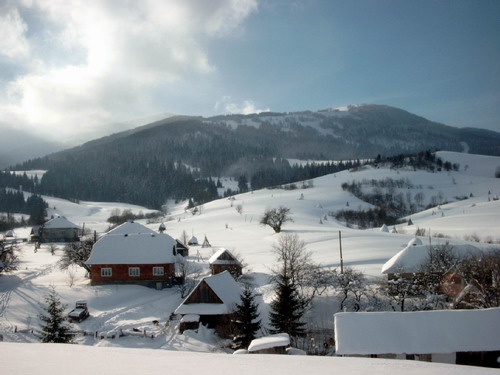 Pylypets is an up-and-coming ski area 12 km to the south of the Volovets train station, which is on the Kiev-Uzhhorod train line. The ski lifts (tows, actually) are new, and there has been a lot of construction there recently. For example, some cottages have been built near the top of the new ski run, which rises to nearly 1200 m above sea level from a base of 800 m.
You can get there by taking a 2 km walk or sled ride from the center of Podobovets or by taking the taxi another 7 km or so around the mountains (approx. 18 km total from the Volovets train station where the taxis are).
Here is a map of the mountain from skitours.com.ua. In addition to what is on this map there is a new lift to the left that is about the same length. Ski rental is available both at the bottom of the slope and in the nearby village of Pylypets.
In addition, one of the prettiest waterfalls in the Carpathians is just a 3 km hike from the bottom of the mountain. The trail is well packed in the winter and very easy to follow. The waterfall is quite dramatic in winter when it turns to ice.
Fill out this general hotel booking form if you would like our assistance in booking accommodations in Pylypets.
www.skiukraine.info