Podobovets ski resort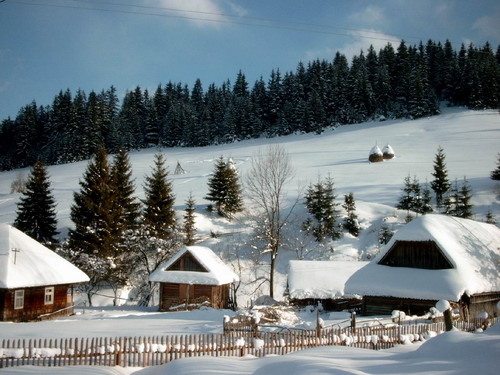 Podobovets is located 11 km to the south of the Volovets train station on the Kiev-Uzhhorod train line. Take a taxi to Podobovets and then a horse-drawn sled to the base of the mountain another 2 km further. This village is poor and undeveloped, but lodgings are available every in peoples' homes with minimal conveniences.
The single tow lift up the mountain is 1000 m long, with a 230 m elevation rise up to about 1050 m. The top third of the mountain is rather difficult — quite steep and with moguls that can be large (the slope is ungroomed). The middle third is almost flat, and the bottom third has a medium grade. Lower-intermediate skiers get off the tow halfway up to avoid hurting themselves on the top part. There is also a wide, gradual hill off to the side of the mountain that beginners practice on (but with no lift).
Skis are available for rental at the slope and elsewhere in the village of Podobets. Most skis are well-worn.
Fill out this general hotel booking form if you would like our assistance in booking accommodations in Podobovets.
Zatyshok resort
Zatyshok is a hotel on the southern outskirts of Podobovets, about 4 km from the above ski resort. It is lesser known, and the mountain is less busy. There are rarely lines of longer than a few minutes. It is 13 km down the road from Volovets towards Mizhhirya at an elevation of 850 m. The tow lift is 700 m long with an elevation drop of 150 m. The mountain is quite interesting for skiers from beginner to upper-intermediate level. There is a nice ski rental at Zatyshok hotel, and locals hang out nearby with skis to rent in their trunks.

www.skiukraine.info