Drahobrat ski resort (Dragobrat)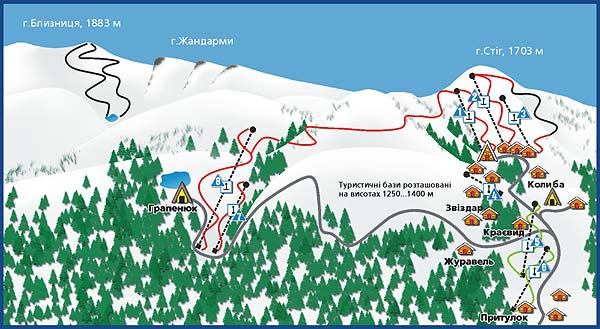 Drahobrat (commonly spelled "Dragobrat") is Ukraine's highest ski resort, with a base elevation at 1300 m. This puts the entire resort in the zone of high snowfall and stable snowpack. Drahobrat is the first ski resort to open its lifts and the last to turn them off — usually around May 1st. At the same time, blizzards and low visibility are more common than at other ski resorts, which can keep you off the slopes for considerable amounts of time. When the clouds clear you will be rewarded with the best views of any Carpathian ski resort. Drahobrat is located in the region with the most dramatic peaks in the Carpathians. Just across the valley is the Chornohora ridge with Ukraine's highest mountain, Hoverla, at 2061 m.
At Drahobrat you can enjoy up to 350 m of elevation drop. Five or six tow lifts from 350 to 1000 m in length reach up the mountainside as far as the summit of Stig mountain at 1703 m. The skiing is as wild as it gets in Ukraine. The "resort" began as a hikers' refuge (turbaza) back in Soviet times and has been steadily expanding, with new lodgings being built from year to year.
In the 2004/2005 ski season one ride on a lift costed 4 UAH (80 cents). Day passes are available. Lines are nonexistent on weekdays, and slopes are generally groomed.
Accommodations
Drahobrat is located 18 km away from the nearest civilization, so the only place to buy food or rent equipment is directly at the resort. Also, there is no "private sector" of locals' homes to stay at, just a collection of hotels and small private inns. Hot water, electricity, and hot meals are available everywhere.
The long road to Drahobrat
The only way to get to Drahobrat is to take a winding, treacherous unpaved mountain road in an old Soviet UAZ or GAZ. With all the snow and deep ruts, this can be a harrowing experience. But that's part of the novelty of Drahobrat; getting there is almost like going on a pilgrimage. Die-hard Ukrainian skiers usually say that Drahobrat is their favorite Ukrainian resort!
UAZ "taxis" will be waiting for you and other skiers at the bottom of the road in Yasinya, which is in turn a 2 hour bus or taxi ride from the Ivano-Frankivsk train station. You can also get their by the snail-paced narrow-gauge diesel train (4 hours) from Ivano-Frankivsk. If you have a group of people, it may be easiest to rent a minivan in Ivano-Frankivsk (you'll find them at the bus/train station) for around 200 UAH to take you to Yasinya. The ride up to Drahobrat will cost 80-120 UAH per car. There have been rumors that an aerial tramway might be built to bypass the road up the mountain and make the resort more accessible.
All this means that Drahobrat is not a place to spend one day at and then try somewhere else. If you're coming on the train from Kiev, the soonest you'll get there is around noon the next day, and you'll need to leave soon after noon on the way back to make the evening train back to Kiev. You'll get the most enjoyment from Drahobrat and its beautiful surroundings and aura by spending 3-5 days there.
www.skiukraine.info