Pokrovskiy Monastery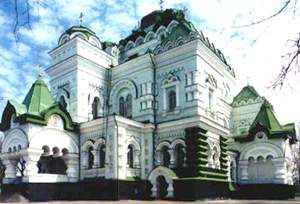 This women's monastery was founded in 1889 by Russia's Princess Alexandra Romanova. It has achieved fame for its medical and educational facilities.
For example, the monastery hospital was the first in Kiev to have X-ray equipment. Lots of well-known scientists and doctors worked in the monastery complex. The famed Ukrainian entrepreneur Nikolay Tereschenko financed the complex's administration building on the foothills of Mount Voznesenskaya.
The complex's architectural style is known as Moscow-Jaroslavl - for the two Russian cities. The complex includes the biggest church in Kiev - Nikolaevskiy Cathedral - which seats 3,000 people. It also includes Pokrov Church, a hotel, and surgery and therapy facilities.