Ride on China!
photostory travel to China in November 2012. (Tour "Jade Dragon") Most recently, I returned from China where he lived for two weeks on the chaise traveling about the country, and with the persistence of New Zealand sheep carrying the fate of the suffering of the original emotions piligrimma. Nebezrezultatno, incidentally. With me it was another 10 "hrabrunov" (SEA unknown to me to China meme originated somewhere here), so that the burden does not seem such a daunting: like all past times we laughed to colic, cocoa mass bricks rounded eyes on cable tracks , desperately, as the fish waste of land, barely sticking chapped lips and a lack of oxygen at medium altitude and drove, drove, drove always somewhere ... The curve of the route divided China at an angle of 45 degrees from the north to the south-west, where the starting point was Beijing, and the ending - Kunming. Two trains, 8 aircraft, countless buses, subway cars and taxis behind us. Now, after a lapse of two weeks after his return, when stopped aching blisters on my feet and I do not get up at three in the morning on the "inertial" GMT +4 stomach and almost got used to the Moscow food, I can say that was conceived to glory! Do you, by the way, I have a chance to check and decide on their own - whether it was in fact :)
1. We begin, of course, with the center of the universe. For Beijing, it is the geographical center of the Forbidden Palace, where, in fact, and was made this picture. If any of the readers are those who do not fully explored my wardrobe and could not identify me for shoes, I'll tell - I'm in the picture, far right. We are pleased to have put his foot in the center of Beijing's universe, but if there are those among the readers who know me will understand Ira - it is useless to argue with her, and sometimes life-threatening. Therefore, in the heart of Beijing that day was much :)
2. China - a lot. The proposal, in terms of the Russian language is agreed but fully reflects the essence of my feelings: there is a lot of everything. People, houses, cars, animals and food. Only now they regret flags and stuck in the main wall of the city just four pieces. If there is any intention in this, it just lies in the cruel and disrespectful to the life stories of China: so they show the number of lost tourists on the palace :) And every morning the number of check boxes cleared. So quite a way - a million more, a million less ..
3. View of the main entrance to the Forbidden City and the Great portrait. Until the middle of last century entrance here was closed to mere mortals. He is now closed, but we let him go, we do not anyhow-who, and the Russian-Ukrainian team to supermenstvu. And the fact that we broke even thousands of Chinese Boys oh boys - a fact not worthy of mention.
4. And this is our battle friend and comrade, leader and demiurge (when it comes to communicating with the natives) - Kiril Sergeyevich. You might know him for such series as "ate in Nepal EPL pie, then I was ah-ah-ah" and "Diabetes Falvareke in Minsk." This time Kirill Sergeevich Uniforms show off. In the description of the route to the site, as well as in telephone conversations, he talked quite extensively about the fact that we will have a few moves, and, as if mildly skaskazat, quote, "more civilized than in Nepal, a journey." Do not lie. I admit, for example, one time to fly from place to place, well, two times. But that would be eight (8) times! But this wonderful airport we Irka, I think, will remember for a lifetime. Not only that we are on the first try was not allowed (ie, on the approach - brought back), so I personally have given birth three times on landing. Who begat not remember. Our A320 shakes a rattle as a child in his hands, the cabin riding bottles and glasses, and we sat on the neighboring Irka seats, grappled with wet palms, and .... I personally sang "No news from heaven." Nothing else seemed to work. And it did not help either. She just wanted to scream with fear. But in general, of course, Kirill Sergeevich desisexyboy bold. Go to the new country with a composite waxworks - it strong spirit. Respect :)
5. A Panopticon we going noble. Who plays the balalaika, who on TV Shopu sells slim-bras, who rolled steel across the country trades in, and my old druzhban once again showed nedyuzhy talent: he, blah, was straightforward as all the empty channel and a classic case: half of the route he had a cough and temperature, and the second - run with ribbon saved from toilet to toilet. You think, what it so dreamy Cyril Sergeyitch barred him? And then! WC is not around :)
6. This image - a myth. It seems like an idyll, but in fact do not. As the very samurai without a sword, which is similar to a samurai sword but without the sword. To dot the "i", suggesting recall riddle about the boat, goat, cabbage, and a wolf. It's about them. A smile only because I'm being photographed naked. I am very funny in the nude. Do not believe me? Come and demonstrate.
7. Glad you're here some. Already scared. Although in general - one of the most positive images. And then everywhere you look in the overall photo folder - either with a plate of food, Nina, or Stas scorpions, or I with a wry mug. Positive! Attention to the question! Which figure shows Ira right hand
8. On the third day of the trip finally our bodies have adapted to the marching rhythm. We learned not to have a blinking red pepper and sleep immediately as loans sitting or lying position. Model in the picture in the fact that neither is present as aforesaid talent show. Roma, by the way, minus three points to karma: his laughing face he spoiled air and relaxed atmosphere of my fotopostanovki. But Ira is natural and beautiful. I would have been so, teach me some good man five years ago to tie shoelaces properly, there has to tridtsatnik before and still can ... I am suffering!
9. Enough about our glorious team. Let's talk about China. I'm ashamed, ashamed at all for Russia. If you have any imperial ambitions, saying Russia - the light, "the third Rome" and "the only hope of the earth." Buy a ticket and roll in China. Briefly. You can not even go to the capital and megaznemenity Shanghai - Go to mainland China, where there are so many people (not much - Moscow in the second or third degree :). Skyscrapers, highways, parks, paths and surroundings - everything is there.
10. Remember with what thoughts future Decembrists returned home after the victory over Napoleon? So most of my travel is not the feeling that we are in comparison to them - a social and economic mistake. Almost everything - from the free toilets at every step, and the last transport infrastructure. Someone from the back of the party may raise their hand and hint at the depth of the Russian soul, and so I can assure - they also have their Dostoevsky. And blocks. With Guberman only problems, but for this article we are really all pereplyunem :) But without going into detail - the scope, scale and logistics of life in China - at altitude. Even China does not make the impression, for example, the same provincial Chengdu (he was shot). The only thing annoying in cities - a strange smog. Machines like not so much, and all of them, even in comparison with the Moscow fleet - new. But a strange mist hanging in the air constantly. I feel that there is some connection with the Kyoto Protocol :)
11. This Beijing Central Station. He forecourt it looks impressive, but on Google maps at all monster. If someone still doubts that dx.com bad filters - do not think, take it. Just do not like the tub and I always choose those without moire flair.
12. By the people, too, the special claims no special: people like people. For example, a local Stirlitz - sitting, minding my reads Communist Party editorial. Yellow sneakers, obviously represent the visual unity of the Great Wall of China, and paralonovaya ass (who else will be able to sit an hour in the cold stone?) - Physical.
13. After two weeks spent with them side by side, I can say that they are the same as us. Scary places, sometimes good, sometimes young, sometimes so-so. People like people. Just like pepper and pandas are.
14. Sorry, could not resist. This good and we have bulk - some fun in the summer or in Tsaritsyno Kolomenskoye. Under every bush concealed fashion model with the sect operators photographers. Perhaps, that only this part, we do not go with them on a par, but surely getting ahead. On the other side - they have neither the city, the "Eternal Spring", and we have all the dark-gray. Take a look of the window? Yeah?
15. A tourist Mecca so full of older people. The fact that they are "hearty", suggests that Doshirak still something slipped.
16. By the way, revealing that the grandparents have the Chinese quite charming. We have the, if not the fact that it is not possible - a rarity. Or I do not go on those streets.
17. Who have not been married? I beg to love and favor - real Chinese suitor. Poke it with a wooden stick - not a fake. In the sense that a living :)
18. I always knew that Coltrane was not dead, but just went to Beijing and moonlights on the transition from the metro station Dundan. Orleans and Brooklyn - vanity, and here - the bliss and Macron. Grandmother on the mise en scene - a space archetype. I assume that she had roughly 60's. Also, she was on sale and bought a spare jacket Hendrix.
19. A few words about our assimilation and mimicry. This is not a little Chinese girl. This Ira big. This is another confirmation of why I was afraid in the first frame to the center of Suva leg :)
20. Another couple mimimishechek. As a fact - the Chinese like to be photographed with the Europeans. Take it as a given and relax. When we Prochukhan this topic, tried to introduce aggressive tactics: Roma Ira photoshoot around the lens, and I click the shutter yak ball from Buttermilk. We had to make some business cards with your email, so that by the end oSharitsya and send the resulting work. Or not. Let suffer in the dark?
21. Well, a couple of words about the technical side of things. China - a variety of brands, crafts and counterfeiting. In every city you can find kayeny, Boomers and Mereni all sorts and kinds. And delivers an abundance of local color - known Russians Byudy, Cherry, Favy and God knows how many brands. By the way, the local Fava (Faw) has quite a successful joint venture with vagenami. Wonderful to see the brand new Passat, which instead of the usual Latin on the trunk lid nakleeeny nameplates like "尊敬 的 游 期 导游 2,0 TSI". For one thing - there are no relatives eye "khach mobiles". Clarify - I'm not talking about the artefacts AvtoVAZ, but a broken-down into the trash rattletrap, regardless of the nationality of the person behind the wheel. Assume that the government massively heaven breaks off the suffering of individual freedom of movement and conformable goods imperative for all transplant elektroskutery (I like the others, and did not see), bicycles and rickshaws. Maybe it is what promises to them manna. Or maybe just a full cars are exorbitant money. Unknown.
22. Pleased with China and the abundance of some distant and even extinct for old-world brands. Where else can you see here with a brand new interior Buick? A very beautiful MG Rover? Of course, I was never interested in the machines, but after I saw the live GL8, easy to love. Photo, unfortunately, can not make - every time I saw this car, fell like an epileptic on the asphalt, sputtered and comes in ecstatic delight with cries of "I want-want-want." Recently learned that they are made exclusively for the Chinese market. Long thought - why so unjust world, but then I realized - why is it us? Russian beauty does not understand this. We've got the people's car - black stained Touareg with the numbers 777. Where are we up to the beautiful ...
23. Surprisingly, in each city, the movement is organized in such a wonderful way that the flow peacefully coexist and tricycles, a youth issue of my late grandmother and Defender - kukuruzery. Comply with all the rules with reservations: Riding on an opposite - in the order of things, turning over so solid in the center of a densely populated city is also allowed. Of the differences between us - the ability to overtake in tunnels (not solid), driving trucks on the extreme left and fatal abundance cameras. In each place, even in a run-down town there tsya two or three cells with a predetermined landmark notification flash and tracking of all stripes. They say works. Miracles
24. Here is the announced elektronechto. Battery sewn into the frame, pedal drive - for overclocking. Rusty chain - for intimidation.
25. Another of our shared experience with Ira. We are the night ride in Beijing on IT. Unforgettable! Especially because of the fight 10 yuan at the end of the trip. By the way - I won. Still would be on my side was Ira (see the comments to the photo number 1 and number 19).
26. I, as a goner aerophobia, before the trip to China was itself a depressing picture - Carcasses and half-dead on the half-empty Elah airfields. Figvam (this house is). With aviation equipment they have everything in order - the whole park packed to capacity novenkimi Airbus and Boeing. Pilots are harsh, accurate and all that surprising, narrow eyes :) After 8 and flights can say is absolutely sure - I like Airbus. There is in them something close to my heart as Mersedes GL. Europe is still Europe. And in the photo Ledzynya airport. Another paradise. Ready now packed up and left there. Well let go, well, that you feel sorry for what?
27. By the way - I visited each of the airports hit grandeur and scale. Even in remote towns with great new airports competently constructed logistics schipitilnym inspection and clean toilets. This is Shanghai, sort of. He just something 240 gates. Can you imagine 240 aircraft can simultaneously load passengers. A? The staff is courteous, but picky. The baggage contains batteries and forced to take with you to the salon. The logic is simple - if they explode in luggage - will be bad. When the inside - well. Iron.
28. Well, let's back to the architecture and close the topic. I have, a convinced agnostic, a vague sense of manifest that life just go to a religious building, whether it is a mosque, church or synagogue. That's all. For example in Russia is to drive for a weekend in Suzdal, in Beijing - the same Forbidden City. The rest can be removed from your life completely and not waste time. All of them, with some reservations - the same. Well unless you are not a fan Sitharhi Gautama. Then yes, you are welcome to walk and oblabyzat. Although it seems to Tablets - this approach and enthusiasm would not have approved.
29. Just a beautiful pagoda. Judging by the design solutions and then branch based big brother, the camera see? I zhezh more a pleasure accord blue and green. Plays nice.
30. Yes, there is inadvertently revealed that Buddhism - no religion. This is a philosophical doctrine. Impressed with something, but so far I can not understand exactly what. And in the photo - a sad little man. And his sick with something black. Or is it a beard like that. I do not fully understand.
31. Within an hour's drive from the center of Beijing is a wall, the one - the Great-utter. Up at the very top of her head, you can get a cable track down - on batonge (like the so-called). Well, a few kilometers along the wall itself for a walk, in a personal diary to make pometochku achievements: "It was." My feeling - the grandeur is felt with great difficulty. Well wall. Well built. And?
32. Another simple form. Solely for the fact that once again molded within you a sense of beauty.
33. And this is the Huashan - mecca and home to all the Taoists. Here he was born, in general. Just 100 meters from the place where I took this picture, is the legendary road deaths. We do not it will not go. Because you do not have documents. Let's just look at the blue sky :)
34. Another crap that is specifically conceived to Huashan - a fetish associated with obveshivaniem all possible locks and ribbons. But still contemplate not interfere. This, by the way - another type of those that can be contemplated without regaining consciousness. Look closely - see the bottom of the mountain. We are then stuck at 1800 meters above sea level. Slide completely, by the way, is covered shackles of civilization - just around the corner perfectly caught the internet, and I even managed to work :)
35. Down from the mountains - forward - swimming! This is the National Park Dzyudzhagou. We spent on it for two days. Though personally my feeling - quite a could meet in one. In the Altai were? Then here just is not worth going. Unless you love funny landing in mountainous airports ;)
36. Water transparency and filigree phenomenal purity. According to my observations - no, no, yes, someone has managed to throw a coin or a piece of cake. Even the Chinese are not perfect :)
37. Color, by the way, natural. Did not even have the color balance sliders laytrume chatter from side to side :)
38. In general, the entire park - Cluster Ozerets lakes, waterfalls and rapids. Within an hour slonyany this wonderful place you stop to tell one from the other beauty. All fused into one big swamp. In my head.
39. No Comments.
40. And that's how it was.
41. On the stretch Xi'an-Chengdu going pandovoy what that crazy. Pandas here everywhere - on the covers of fuel tanks, doors magzainov as toilets. Pens, pencils, tickets on buses and vetrazhi - all strewn see mileyshego bamboo bear. After the private meeting, I slightly reforiroval proverbial saying, the three things you can watch forever - as the fire burns, the water flow and how people work. Fourth item will go: as fighting panda. Indeed zavorazhivet.
42. This neighbor large bamboo bear. In Russian - "red panda." And in English - Firefox. Yes, yes, yes, this is the beast who was named in honor of the popular browser.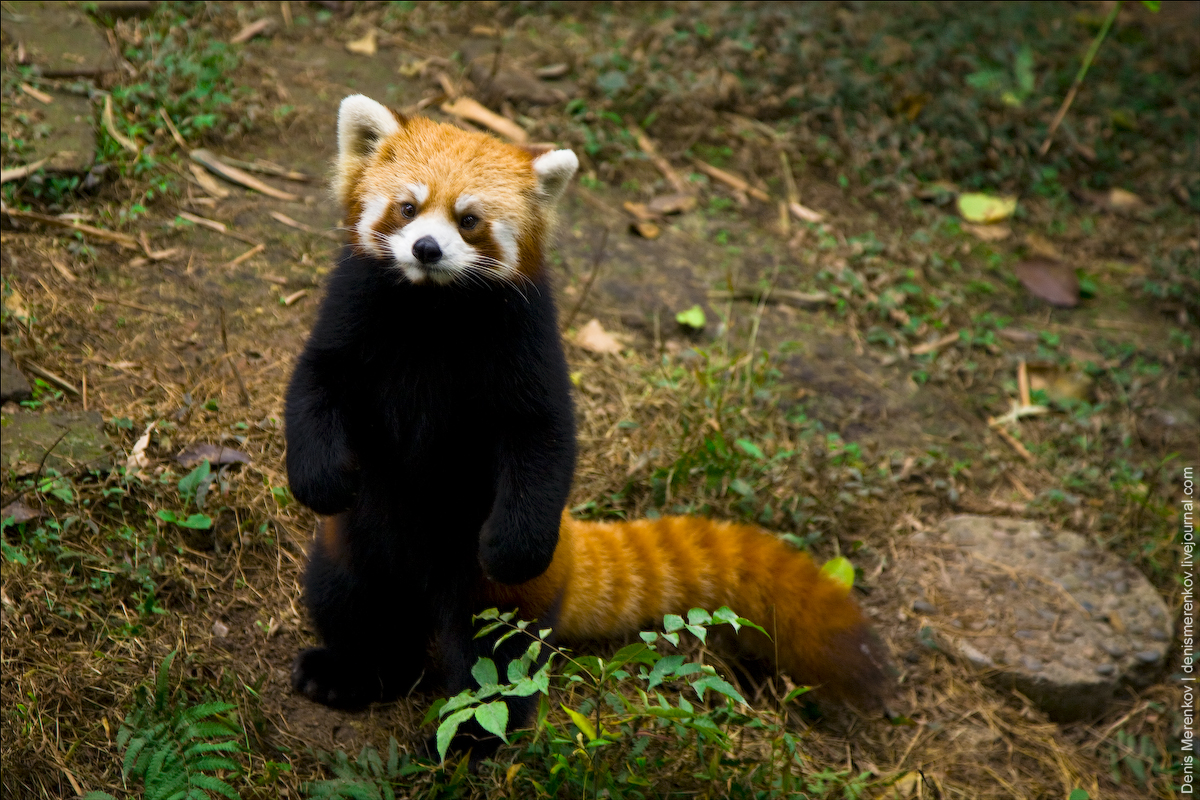 43. I beg to love and favor. And he asks and the likes.
44. Fish soup in the little lake pandoparka. Adjusted rate of boiling bread crumbs :)
45. Itz e Heavy Metal, baby! Let's go back to this picture in 15-20 years when I did obryuzgnu, for me assured me that this is what I will look years from now "very soon" :)
46. I do not know how much is permissible to make such pictures, and that is a symbol of so many candles, but first, just beautiful, and secondly, they're Buddhists. They do it on a large leather-Tamu ...
47. One of the biggest statues in the world. Over the past 300 years, its rating has fallen slightly (up to 10th position or so), but it still looks impressive. This is not at Giza kripichi shipping, these things - art!
48. Beautiful bridge. Based on my observations - to Narnia.
49. Beautiful elephant. Of Narnia. Obviously, the trash from there too dragged.
50. Species A. If it were the sun. But it was not, enjoy the fact that this is :)
51. Well, here it is, perhaps, the most beautiful photos of the tour - the texture, color color, bevel, color spots. You want to like it and I am giving this picture five points and first place. The more that the serial number has the proper - Murmansk :)
52. Planes, trains, taxis ... Got. Under us - Gorge "Leaping Tiger". Before us, slightly hidden by clouds, Jade Dragon himself.
53. Yangtze. Great. So now tell myself that I was there - and he does not believe it. In general, according to all the previous pictures - leave a myth. Maybe this gift tons of people being taken, which would somehow prove yourself that vacation be? Personally, I have a feeling that I was two weeks in full sedated and everything was done not with me ...
54. Now trying to map to find this place - and did not work. Take this place, too, to the very lost Narnia - somewhere it is. But it is possible to visit only once in a lifetime. I spent my, and here you have a chance :)
54. Phew. Got! Mountain "Jade Dragon". The highest point - 5600. This is actually a culmination of our two week bomzhevaniya. They say it is a great happiness to see her without clouds. Add on itself - a great happiness to get here and shake all the brains. Starting from a height of 3 km., Roads become like the best examples of works "Rosavtodor": a kind of rollicking country road on the border between the Kaluga and Bryansk. And with holes for half a meter.
55. Yep! Climbed! More precisely stopped. The entire route the cable car, I talked to God. Ie just sat and looked at the ground and thought. "la-.lya .lya." Helped. Now always scary when will say so. I specify - cableway company brings you as much from 3600 to 4600, and a further 100 meters you can climb their own way. Before you - a route. Weak heart and loins Chinese go there with mobile oxygen cans and grunting with delight. Someone sick. We, on a cursory survey - pokruzhivalas head and had a pleasant euphoria. I believe that it is the Russian people for the height and the likes.
56. A rare shot - I. Tibetan native hat unique. Only I have that. I brought her to Moscow and still not cleared. Spirit store. Yeshe, analyzing the amount of debris in the visual scene, wanted to make the announcement - to all who do not mind a couple of hundred dollars, please do not trette, put in a jar, and at the first opportunity - carry me. I urgently need a new lens :)
57. Ah-ah-ah. Beauty.
58. This desisexyboy in purple plaid jacket is not one picture we spoil. And then he describes a wild panda.
59. I have one more. Greetings people of the lower world.
60. The figure of "The Star" by Russian aerobatic team "Zhruny."
61. Just one more final chord and run back - the wind picked up and the guards began to drive out of sight.
63. Next story narrative is lost - Huashan-leoshani-Kunming-messed up. In the picture the stone town in one of these points. Built his nature. More from me, do not ask do not remember :)
64. The town, by the way, not sickly - Greek ruins rest.
65. This cave of prehistoric man. Was there a time to realize similar light - history is silent, but if he lived here in such surroundings, I certainly envy him. All. The photos do not. Write and describe - worn out. In summary I would say that without the slightest regret at stake always like to go to China and stay there forever. This is perhaps the most comprehensive answer to the question "how did you there? '. And one more ... Ira out of the competition! Zhrite and will arrive with you the power of ice cream, my friends! Denis Merenkov, Moscow.